Alamosa

High School




Class Of 1960
April 5, 2022
Memories of Gabby
Greetings, Classmates,
Sigh. Once again, I have sad news to share: Gabe Martinez (or Gabby, as we knew him) died on February 9. I remember him as smart, a good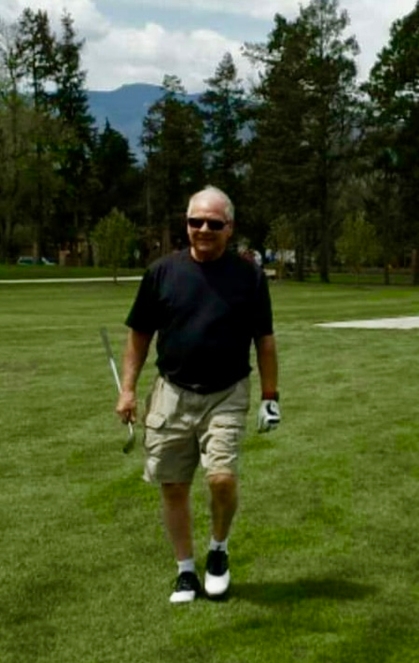 student—the guy with the winning smile, freckles, and curly hair. (Okay, Chuck Asay reminded me of the curly hair!)
Chuck also recalls that Gabe and Pat Jiron handled all the sports equipment at Alamosa High . . . that Gabe was a good wrestler . . . that he had a great sense of humor and got along with everyone. Chuck adds, "I don't know why we called him 'Gabby'. He didn't talk a lot but when he did, you knew it was going to be positive. I wish I knew him better"—a sentiment I'm sure many of us share.
Leaving his imprint in so many ways . . .
After graduation, Gabby led a full and productive life. Words that characterize him:
A friend to all who knew him: His infectious smile, gift of conversatio

n, and command of trivia endeared him to friends and strangers alike.

Master craftsman and artist: He enjoyed redoing furniture and making something old into something new. His family says woodworking was a passion he had his whole life, from building a ho

me, remodeling restaurants, to the smallest of projects. While in Colorado Springs, he had a working woodshop, and he had some of his pieces available in one-of-a-kind stores. He had wood projects he was working on until he no longer had the strength to do so.

A tireless entrepreneur: He envisioned, created, owned, and operated a number of restaurants—including St. Ives Pub & Eatery in Alamosa (all built by him, and still around today on main street today); the Cattails at Alamosa Golf Course; and Kokopelli's, a bistro, in Albuquerque. Gabby's daughter Amy reports that most of his restaurants were built from a "blank canvas."
Traveler, free spirit, and story teller: He had many stories of his life's adventures, which began with a stint in Fort Bragg, NC, with the US Army for four years after graduation. He never stopped looking for new opportunities or learning something new. Most recently, before cancer caught up with him, he traveled to Thailand in May 2021 to teach English for 3 months at their university—before he returned home to Colorado Springs due to illness in June 2021.
Family man, sportsman, and friend: Gabe enjoyed golfing, playing pool, traveling and spending time with his family. He had many close friendships and enjoyed visiting, sharing memories and laughing with longtime friends.
Indomitable spirit: After he returned to Colorado Springs from Thailand, Gabe spent his last several months fighting cancer with unbelievable strength and courage. His daughter Amy reports that he remained positive & hopeful through his journey with terminal cancer.
Private services for the family will be held in Alamosa in May. A Celebration of Life in loving memory of Gabby will be held for family and friends at The Reeds at Cattails, located at 500 Cottonwood Dr, Alamosa, CO 81101, on Friday, May 20th at 6 pm.
For more about Gabe, please see his personal profile on our Moosie page, and his obituary in the Valley Courier: https://alamosanews.com/article/gabriel-i-martinez.
More about Gabby in his own words
In fact, here's are some memories in Gabby's own words from his page on our Moosie site that just might spark some memories for you:
Sadie Hawkins. what a blast!!
The Charro Cafe, best hamburgers and nickel juke box.
Pottbergs farm on river road, our gas supply. And that was when two bucks would get you a half a tank
All the sock hops. the glow worm dance by the Chacon band, remember that.
The great sport teams we had, knowing coach Joe Vigil.
The Teen Canteen. Dancing a close one with Judy Speiser.
The hay rides at the Ranch.
Ice skating at the pond by the golf course.
Potato roasts out in the middle of nowhere in the middle of winter. What were we thinking? I know.
Frank Martinez's blue coupe that never had any gas or all four tires inflated at the same time.
There's more! To read more, go ahead and click here.
--Ann Garretson Marshall
---
October 31, 2021
Good-bye, Sharon Rogers Rankin . . .
More sad news, classmates: Sharon Rogers Rankin passed away on Monday, October 25 in Arvada.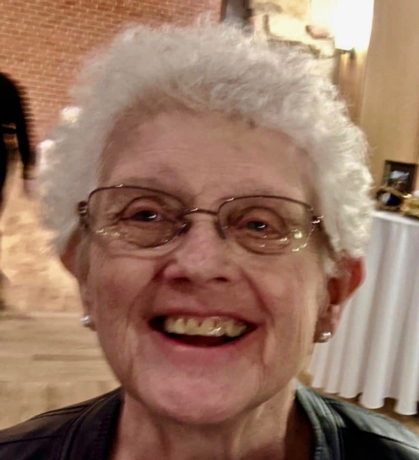 Her daughters Rhonda and Deb pass on this information regarding services:
Visitation: Wednesday, November 3, 2021 Horan & McConaty - 7577 W 80th Ave, Arvada, CO 80003, 5 p.m. – 7 p.m.
Funeral: Thursday, November 4, 2021, LDS Church - Alkire Chapel - 12995 W 72nd Ave, Arvada, CO 80005 (same chapel that Dad's service was in)
Visitation – 9 a.m.

Service – 10:00 a.m.
Burial: Fort Logan Cemetery, 4400 W Kenyon Ave, Denver, CO 80236 – Specific Pavilion will be given at the service; 12 p.m. – Please be there by 11:45 a.m. We are allowed 30 minutes and are strictly held to that time. There will be no procession although we can do our best to travel together.
Looking back . . .
Sharon began working for Allied Van Lines in 1969, as a receptionist/switchboard operator. She worked herself up to an Accounting Department Manager. In 1984, she left there and went to work for Graebel Van Lines and stayed there until she retired in 2001.

In 2005, their youngest daughter blessed them with their one and only grandchild, and, as Sharon reported, he was the light of their hearts.
Marge Asay remembers Sharon as one of several of our Class of '60 classmates who started first grade together in Central School in Mrs. Heilman's class, along with these other Moosie Class of '60 classmates: Diane Wagner, Anne Tooker, David Bailey, Rosemary DeHerrera, Roxie Harmon, and probably others. If you were in Mrs. Heilman's class, please let us know so we can add your name.
Thank you, Jacquie Ironfield, for sharing these photos of Sharon.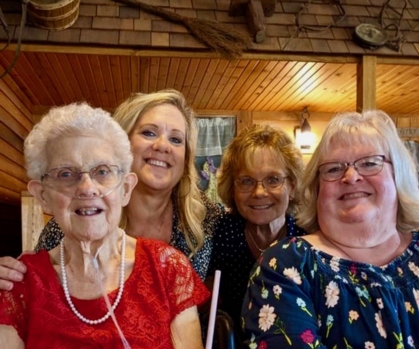 ---
September 18, 2021
Joy and Tears
We had some of each over the past few weeks, Classmates. Hold hands and read on . . .
The Multi-Class Reunion
The Joy emanated from the Ten-Year Class Reunion for AHS grads, 1960-1970 (including a few years on either side, thrown in for good measure). Yes, it was a multi-year effort, attended by some 250 or more AHS grads, on August 13 and 14, in Alamosa.
The event was organized by Charlotte Nickson Parker and Judy Perko DeGolyer, assisted by these reps: Denny '58, (our own) Virginia (Hardy Martin) '59 & 60, Linda '61, Connie '62, Kathy'63, Judy '64, Clarine '65, Tandy '66, Rona '67, Marge '68, Patti '69, Linda '70, Carol '71, Renee '72.
Highlights of the weekend included a Friday night meet and greet, Saturday brunch, and later a dinner. The evening program included a skit by the always talented SSS (Sexy Sixties Sisters), visiting, a plenty of bloviating no doubt, and dancing.
The SSS skits are not to be missed. Take a look--and sing along!
The hilarious video brought back rollicking memories and lots of laughter . . . including memories of classmates who have departed this life.
With that, it saddens me to share the following:
Memories of Kathy and Donald
The Tears accompanied the loss of two classmates recently: Kathy Katsumoto Gilliland died June 27, and Donald Crawford died around midnight, September 13.
Kathy

Kathy knew how to light up a whole room with her smile and get us all chuckling with her laugh.
Kathy's son, Matthew, posted this remembrance on her Facebook page:
"Kathleen Kimiko Gilliland passed away at St. Francis Hospital in Memphis, TN on Sunday 6/27. She had been battling heart failure for many years and, although she had survived a series of strokes, her body had been slowly shutting down. She had been hospitalized many, many times in the last year. However, she

was always the fighter and a great lover of life and defied the doctor's expectations, time and time again. Although it saddens us all to no longer have her here with us, it does gives my family and I some consolation to know that she can now rest and be at peace . . .
"My mother was an incredibly warm-hearted and caring person. It is undeniable that she touched and connected with almost everyone she met and was a very vital and important fixture in many, many people's lives. There could never be another like her. She will be sorely missed."
Check out other memories of Kathy on Chuck Asay's July 7 Moosie page, including some smile-inducing tales from Olivia Medina Moore and Terry Jones.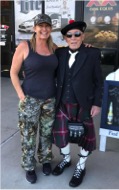 Donald
You had to love it when Donald dressed up in his kilt—and when he was clowning around (take a look at the "mask" he and Jana are sharing below!)
This Facebook post by Donald's friend, Kelly Reeves says a lot: "Lost my good friend Donald L. Crawford today. So grateful to have met him & his sweet wife Jana. He would come get her coffee while she was sleeping in & was always a pleasure to talk to.
"When Covid hit, I offered to add him to my shooper's list. ....and NO WAY!!
"He enjoyed his daily shopping trips too much...until he ran out of TP!! Haha!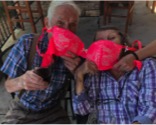 "My heart is broken for his sweet wife & family.
"Heaven gained a feisty one today!!"
Please add your recollections of Kathy and Donald to the "In Memory" page, which you can access in the yellow vertical navigation bar to the left.
That's it for now, friends. Stay safe and savor every minute!
Ann Garretson Marshall, '60
May 27, 2021
Quick update on All-60s Reunion
This just in: Charlotte Parker advises that some folks have misplaced their Registration Form for the All 60s Reunion (which will include the Late 50s and Early 70s).
If that applies to you, worry no more! The Registration Form is on our website--just copy and paste this link in your browser: https://www.moosie1960.com/2021-Class-Reunion.htm
Then complete and send in the form, folks--It's getting late, so don't miss out! Hope to see you there!
Ann Garretson Marshall
Greetings, everyone, the "logjam in my lane" has finally broken! And the news pours forth--Ann
Upcoming 2021 reunion plans

News of Anne Tooker Cary

Thoughts on Mothers Day
The All-Sixties Reunion
"Plus-size," with invitees from late '50s and early 70s!
Classmates, are you ready to rock and roll? Well, mark your calendar for August 13 and 14 for our next class reunion. Charlotte Parker and her energetic committee—including our own Virginia Hardy Martin—have locked in on the 2021 All-60s reunion, to include the bonus years of 1958-59 and 1970-72.
The more the merrier, right?
You should have received your letter a while back. If not, please click on the new 2021 Class Reunion button on the yellow navigation bar at top left. Charlotte and team need to get a head count, so let them know as soon as possible.
Plan on it—it's always great to get together and swap memories—and tell new tales of our lives since the 60s.
The key information about the reunion is below. For the full registration form and how to reserve your spot, click on the 2021 Class Reunion button in the yellow navigation bar at top left. Be there! Or. . . . ?
Key information about our 2021 All-60s Class Reunion
Meet & Greet Taco Bar and Cash Bar: Friday, Aug. 13, 6:30 pm (this is not dinner)
Breakfast/Brunch: Saturday, Aug. 14, 9:00am - 11:30am
Social hour, Dinner, and Program: Saturday, Aug. 14, doors open at 5:30; Dinner at 6:30 (cash bar), followed by the Program and the famous SSS Skit (DO NOT MISS IT!), followed by Visiting and Dancing
Taco Bar, Brunch, Dinner, all included in the registration fee.
Registration Fee - $65.00 Per Person
Our Planners Do Need A Head Count A.S.A.P.!!!
Sad news of Anne Tooker Cary
We've received word that Anne Tooker Cary died on April 6, 2021 at age 79, surrounded by her family. Anne worked part time and full time as a registered nurse, and traveled the world with her husband Bryan, who was an Air Force man. After he retired, they moved to Monte Vista, where he served as pastor. You may read her obit at: https://www.goesfuneralcare.com/obituaries/Anne-Cary/.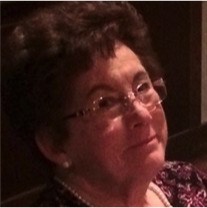 Marge Asay shares this memory: "Anne and I met when we were both five years old and had stayed in touch all these years. She used to live out on the River Road. After her parents moved back into town, we'd ride our bikes back and forth from her house to mine, made tons of trips to the old library on State Street and then we'd swing by Cole Park and ring the bell in the old train engine. Fun times!"
Chuck Asay recalls, "She had strong toes. When we danced at the sock hop, she always danced on her toes because she was short, I guess. She had a great sense of humor, most of the time, but I could tell when I overstepped the boundary line."
Anne noted on her Classmates page on our site that she recalled Chuck being her campaign poster artist when she ran for class treasurer.
In a recent note, Chuck says, "I really don't remember doing campaign posters for her...in fact I don't remember that we elected a class treasurer. I don't even remember the class of '60 even HAVING any money."
Sigh, well, you know what they say about memory, Chuck . . .
Funny, I don't recall having any class officers, or any class meetings, or . . . Sigh.
Thoughts on Mothers Day . . .
On this Mothers Day, I look at my mom's photo and long for a good old-fashioned mother-daughter talk. Sadly, our long-ago talks centered too much on "me," not enough on Mom. I gnash my teeth now at the many questions, large and small, I never thought to ask my mom about herself, like . . .
What were your best memories from your youth?
What are the most important things you learned growing up, and from whom?
What were your best accomplishments in your life?
What were your best memories about former boyfriends?
How did you finally decide that Dad was "the one"?
What are the best adventures you and Dad had together?
And, Mom, tell me, how was YOUR day today?
How about you, classmates? What questions do YOU wish you had asked your mom? For those of you for whom it may not be too late, what have you learned in later years that you wish you had known earlier?
--Ann Garretson Marshall '60
May 9, 2021
Another sad note, Classmates . . .
Farewell to John Waldroupe
John's son James shares the following notice, with longer recollections on the "In Memory" page:
John Hugh Waldroupe Jr passed away at his home in Kelso, WA on the 17th day of December, 2020.
He was preceded in death by his parents, his brother Andy as well as his sister Beverly.
He is survived by his brother Luther, sister Nona, sister in law Sandy, son James, daughter in law Kandi, grandchildren Tiffany and Kailyn, 4 step grandchildren, Krystal, Justin, Kayla and John and 6 precious great grandchildren, Paige, Tabitha, Jackson, Joseph and Ashelyn Renee' as well as many nieces and nephews.
He will be missed.
For more memories, please see James' write-up at "In Memory." If you have a photo of John, please share.
---
Happy New Year, Everyone!
May this year exceed all expectations!!
News--plus an invitation--
from David "Scotty" Garcia
As you think back over your high school years, does a teacher or coach stand out as someone who had a profound influence on your life?
Very likely, many of our AHS schoolmates would point to teacher and Coach Joe Vigil as having had such an effect.
Scotty Garcia has put that impact into action over the years—as we recall his work to honor Coach with the life-size bronze statue at Adams State at our 50th class reunion; the Tribute dinner he organized in November 2010 where the statue was dedicated; and the videos he has sponsored highlighting Coach's career and nuggets of wisdom. We have preserved memories of these on a special page on our class website. Take a look (http://www.moosie1960.com/class_custom7.cfm)
And now David is at it again with another ambitious campaign—this time working to establish a Colorado Latino Sports Hall of Fame (CLSHOF). Why?
"The Colorado Sports Hall of Fame (CLSHOF) has been in existence since 1965," Scotty notes. "And in their 55 year history, six Latinos, or 2 percent—six Latinos in 55 years—have been inducted, out of a total of 270 inductees. The goal of the CLSHOF is to inspire Latino athletes to the ultimate levels of achievement, highlight their accomplishments, and honor the coaches who guide them to success."
David has secured letters of support from well-known people around the Southwest, including two former governors, John Hickenlooper of Colorado, and Bill Richardson of New Mexico; former Ambassador to Spain and Andorra Ed Romero (who is also an AHS graduate); Denver Mayor Michael Hancock; members of the US Olympics Organizing Committee; and numerous world-class athletes, including Olympics champions who have benefited from Coach Vigil's guidance.
And, relevant to us as AHS students, David proposes to induct and recognize Coach Joe Vigil as a charter member of the CLSHOF to be established.
David is in the process of soliciting corporate support for the CLSHOF, and he said it would be helpful to have a letter of endorsement from our class, which he has posted on his page. Scroll through the materials Scotty has prepared and added to his page to read the statements of support from the individuals who have already expressed support for a new Colorado Latino Sports Hall of Fame. Scotty also asks if any of you are CEOs of your company, or know of CEOs who might want to support the CLSHOF. If so, let him know.
You, our classmates, can add your own sentiments. Just send Scotty a message by posting a comment on his page, or click on "Send David a private message" to let him know you support the CLSHOF, and he will add in your name and any comments you want to include.
Thanks, classmates. Again, here's the link to his letter.
Thinking of someone you'd like to honor? Here's how . . .
In addition, classmates, if you have another AHS teacher or coach who had a profound influence on your life, speak up, and let's recognize inspiration wherever we find it. How to do this? Here are some possible ways:
Write a paragraph—or a letter—sharing a story or otherwise describing how that teacher or coach made a difference in your life.

If writing isn't your thing, call or write me, and I'll help.

Dig into your old photos and news clippings—or maybe you have old footage from sporting events or plays or performances to share.
Let's revive these records and sources of our inspiration, bring them back to life, and bestow recognition on those who have guided us and cheered us on.
Thanks, Classmates--and good luck, Scotty, with the CLSHOF!
Ann Garretson Marshall

December 2020

Another Farewell, Classmates:
To Richard Jaramillo
Richard's wife Carol and Virginia Hardy Martin report that Richard's journey here on earth has ended after a battle with heart disease. See Carol's tribute on the In Memory page. To other classmates who would like to add to Richard's story, please visit the In Memory page.
Ann, October 20, 2020
More Sad News, Friends
As We Bid Goodbye
to Abe Maestas
Virginia Hardy Martin and Pat Jiron report that Abe Maestas passed away in Colorado Springs on June 16th.
For more, please see the "In Memory" page.
Ann, June 24, 2020
Sixties Reunion Postponed
Classmates:
As you may have heard directly from Charlotte Parker, our Sixties Reunion planned for this summer has been postponed. Her message is:
"After a lot of thought, Judy and I have decided to ' Postpone' our reunion. I've had several concerned classmates contact me, many of the ones who have already registered are concerned about travel plans. This isn't a safe time for us but we will get this reunion off the ground at a safer time next summer."
She is still working on how they'll handle refunds for those who have already registered for this year and has begun contacting people individually. In addition, she is working with the caterer and the Elks on a plan for next summer, so STAY TUNED!
She'll be in touch with anyone who did make a reservation for the reunion to let you know next steps on refunds.
In the meantime, I hope you all stay safe.
Ann (Garretson) Marshall
May 26, 2020
Art Alsbaugh Wrestles his Final Steer

Note: I stumbled into a logjam in my early email this week, where I came across a message from Linda Alsbaugh with the obituary below. Don't know how I missed it thee years ago, but I'm sure our classmates will want to read about Art's storied life. My apologies to the Alsbaugh family for the delay. —Ann Garretson Marshall, April 10, 2020

Art Alsbaugh, 76, passed away at Parkview Hospital in Pueblo, Colo. on Sunday, Aug. 13, 2017. He was born February 3, 1941 to Walter and Alice (Newsom) Alsbaugh. He was survived by his wife Linda (Gazzoli) Alsbaugh.
Art spent his life in the rodeo arena. He bought his PRCA card in 1954 at the age of 13 and competed in calf roping, steer wrestling, and team roping throughout his lifetime. His dream was to compete in the NFR but he chose to stay close to home and help his parents run the Alsbaugh Rodeo Company.
On November 11, 1967, he married Linda Gazzoli They purchased Cross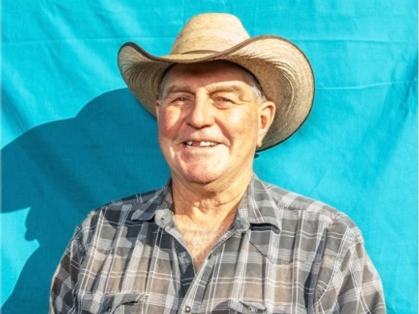 Triangle Rodeo Company a few years later and together produced rodeos across the Southwestern United States and provided livestock for the National Finals Rodeo. Art and Linda had two daughters, Lee Ann and Kerri.
In 2012, they received the Donita Barnes Lifetime Achievement Award for their contributions to professional rodeo. During his lifetime, Art was a hand throughout the rodeo arena. He worked as a pickup man, timed event chute boss, flank man, judge, and stock contractor until his final days. When he wasn't in the arena or tending to livestock, Art loved to fish, play cards and tell re-ride stories.
He was a wonderful role model, husband, father, uncle, brother, and to most who met him, a cherished friend. He never knew a stranger and he was willing to lend a hand to anyone. The world will be a little quieter without his world famous booming voice, most noted for yelling "Pull 'em down boys. Let's rodeo!"
Art passed away after a very short battle with cancer. Even in his passing, his selflessness continued, as he donated his body to Cancer Research.
Art is survived by daughters Lee Ann (Lane) LeSueur, Alamosa, and Kerri (Landon) Koteskey, Great Falls, Mont.; sisters Virginia (Roy) Honeycutt - Alamosa, and Betty Weir - Camp Verde, Ariz.; and four grandchildren, Cougar, Gunar, Kimber and Kalli.
Memorials may be made to Justin Cowboy Crisis Fund or the American Cancer Society.
Thanks for your contributions to western culture, Art!
March 31, 2020
Oops! My how the years melt together . . . as in, I got the wrong year back in October when I told you about the "decade" reunion being planned for August 7-8 this summer. It's actually the Class of '65 planning and organizing this summer's reunion, with help from reps of the other classes.
My apologies! Many thanks to organizers Charlotte and Judy, plus class reps Virginia Hardy Martin '60, Marylee Myers '61, Connie Helms Carpenter '62, Kathy McGinty '63, Judy Perko DeGolyer '64, Clarine Claunch Divis '65, Tandy Morrison Manross '66, Rona Kelly Clark & Kay '67, Kathy Willis Wohnoutka & Marge '68, and Patti Medina Wilson '69.
So save the date and fill out the registration--coming soon--from our own Virginia Hardy Martin.
Ann Garretson Marshall
March 17, 2020
Sad News, Friends . . .
We've lost another classmate: Pat Martinez Shutto
When did it happen? February 24, 2020, less than a month shy of her 78th birthday. Pat was born March 16, 1942 in Alamosa. Early on, Pat attended nursing school and was an Orthopedic Nurse at Lutheran Hospital for nine years before she married and became a stay-at-home mom, working part-time with her husba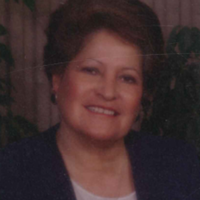 nd who managed a family-owned Italian market. Pat later went on to work in the accounting department at Leprino Foods for 25 years, until retirement.
You all remember that Leprino's is the largest producer of mozzarella (pizza) cheese in the world, right? So they have the market for all Pizza Hut, Domino's, Papa John's, and Little Caesars! Not to be excluded are countless mama/papa pizzerias and lots of frozen pizza items found in your local supermarkets.

And then the whey market for Leprino's (you know, curds and whey in cheese processing) has also become very busy catering to the Chinese and Japanese markets with their baby formula, pharmaceutical, and nutritional needs.
Pat is survived by daughter, Michelle Aguayo; sons, Marc Shutto and Chris (Nicole) Shutto, all of Denver; 10 grandchildren and many cousins. Pat was preceded in death by her parents.
October 2019

Greetings, Moosie 1960 Classmates,
Think 60, yep six-zero,

SIXTY

!

That's the milestone we'll be celebrating next year . . . AHS Class of 60 . . . our 60

th

anniversary.
And I have some good news. The AHS of 55 has invited us to join them in a "decade" celebration of the classes from 1960 through 1969.
Funny thing: I had been thinking we should connect with Charlottte Parker and her friends who organized a five-year reunion several years ago, mainly because they put on a show that brought back great memories, had us all in stitches, and brought down the house. Apparently, they are planning a reprise for the upcoming reunion.
So the "Decade Celebration" is set for August 7-8, 2020. Mark your calendars—we are going to celebrate our 60th with a whole decade of compatriots from the past.
Why not? Share the work, share the fun, right? With the participation of the decade of classes, we can visit with other high school pals we may not have seen in many years, and make some new friends with other grads from our era and our "place".
Those who graduated five or ten years behind us seemed like youngsters back in the day, right? But I'm sure we'll find we have more in common than we realize—everything from the magic of the San Luis Valley to the joy of dragging the gut.
So practice your moose calls and save the date: August 7-8, 2020. I've already gotten myself a new pair of Moose socks and am ready to party! The question is, will you be there to celebrate our high school years?

Meanwhile, Happy Halloween to you and all the goblins in your lives!
Ann Garretson Marshall
---
December 2018
Warmest wishes of the season and for the year to come, Classmates, with thoughts from fellow classmates as to:
What makes a lasting and happy marriage?
As we reach into our late 70s, I (Ann Garretson Marshall) am struck almost daily with the treasure chest of wisdom and experiences we have accumulated in our collective lives—yours, mine, and those of all our classmates.
For example, I'm sure we've all learned a few things about the ingredients of a happy or lasting marriage—regardless of whether we've been married for half a century (or more) to one person or several, or maybe not married at all. We can learn a lot from successes, mistakes, and simple observation, right?
I recently asked several classmates to share their tips for a successful marriage. Here's what Donald Crawford, Joe Sherriff, and Chuck and Marge Asay said, along with a few of my own thoughts:
Is holding hands a good indicator? Donald Crawford's thoughts:
I am often surprised at how many people ask me what it takes for a long marriage. Jan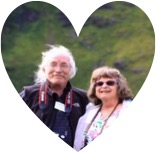 a and I have been out having dinner, and we go to pay our bill and find that someone has paid for our food and drink.
I know that when we are out walking or entering a store or restaurant that I tend to walk faster than Jana so to speed her up and slow me down I take hold of her hand and we walk together.
What you are asking for will take some thought and I have discussed your idea with Jana so hopefully we can give you our take from two viewpoints.
By the way, my short answer is usually "don't take your spouse for granite and let them know where you are if you are going to be late."
---
Clearly, those two radiate a happiness that moves independent observers to "pay tribute" to them as a couple. Wow. And in the meantime, Donald and Jana have come up with two additions: a great capsule of wisdom (in a short video) on what makes a great marriage, plus a rollicking story, which I'm saving for the end. In the meantime, read on for more thoughts from Donald in addition to those above.
So what does it take to have a successful marriage? More of Donald's thoughts:
---
I met Johanna (Jana) Clark while she was going to school in Greeley, Colorado, and I was at Adams State. Jana graduated from Delta HS, Delta, CO in the class of 1961. One of her classmates, Nan Adams, was attending Adams State and decided that Jana and I would make a great couple, so arranged for us to meet when we were on a trip to Denver and then Greeley. For me, it was love at first sight. Not so much for Jana. Fortunately, she finally decided I wasn't such a bad guy after all.
So, what do two people do that are going to different schools 300 miles apart with limited time and financial resources? We wrote letters, not little one-page things once a week but seven- or eight-page letters, one or more times a day. Talk about writers' cramps, lol. The first two years we saw each other in person only a few times, so the letters were our venue to get to know each other. It worked well for us, we think.
We married in August of 1963, and Jana transferred to Adams State. We graduated in 1965 and moved to Seattle, WA area, Jana to teach—and me? I finally went to work as a draftsman, which progressed through the years into electrical engineering. In 1967, we moved to Albuquerque where we spent the next 51 years, and now, we are in Mesa, AZ. Our moves to Seattle, then Albuquerque, and finally to Mesa have placed us in situations where we had to rely on each other until we could develop a network of new friends. Each time we had to reconfirm each other as friends, and as a result, we rarely go our separate ways. We enjoy each other's company and do almost everything together.
We lived 51 years in Albuquerque and were blessed to have a very strong church family to help us over the challenging times. In 1999 we were part of the launch team for Hope in the Desert Episcopal church and served as co-directors for the Altar Guild. As a church family, all with immense faith in our Lord and Savior, we took care of and supported each other.
---
Joe Sherriff: Faith, and agreeing with your wife!

Tips for a happy marriage: "Keep God in your marriage and always agree with your wife. Looking back at the circumstances that brought Connie and I together, I can only believe God was involved. With all the ups and downs that happen, it is faith in God that gives us faith in each other as we move along.
---
Married 52 years . . . he's keeping it short and to the point!
---
Chuck and Marge (Curtis) Asay: His and her perspectives
Thoughts about marriage from Chuck:
Some of us in the class of '60 have been married a long time…and love it. Some of us wonder whether we made the right decision. Some of us who have had a divorce (or two), feel like we have escaped a bad thing.
I don't believe the length of a marriage necessarily proves it's a good or bad thing. We all have had different experiences since 1960 and have resolved them in different ways; sometimes we have used bad judgment, sometimes we have experienced a bit of luck, and sometimes we have been blessed out of God's grace. These are very different things.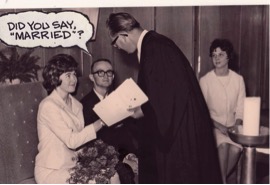 Marge and I have been married since 1964. What is that…54 years??
I don't see our journey in marriage as a matter of luck or planning, I see it as a matter of grace. I figure God has kept us together for a reason. It was not a matter of my doing, or Marge's doing. It was a matter of the grace of God.
As all our classmates know, Marge is a smart cookie and me….not so much. Marge is realistic. I'm sort of a clown (but a clown with a purpose).
She is very forward-looking. I am a more of a spur-of-the moment person. I go with the flow and take risks while Marge is more cautious. Isn't that the way you remember us?
Somehow, even back in the 60's, I thought Marge would be a very suitable match for me…even though I was dating other people at the time... (like you, Ann). Marge had all the stuff I lacked.
There were other differences between us. I had confidence in my good intentions, and thought everything would turn out OK. Marge thought planning and good decision-making would determine the result.
We have been blessed to have a good marriage, I believe. I appreciate and love Marge now more than I did when we were married. I think she kind of likes me also. Somehow it has worked out but I think both of us of would say it wasn't OUR doing…it was the Grace of God. We've had many "adventures" along the way. We didn't ignore these adventures, but went through them together.
My marriage advice is this: Marriage means you no longer have your agenda. It means your spouse no longer has her (or his) agenda. Marriage means both should agree on OUR agenda. It takes work. It takes compromise and sometimes it takes some time to figure all this out.
* * * * *
Thoughts about marriage from Marge:
I agree with everything Chuck said, and would add a few additional points that I think are crucial in a marriage: a good sense of humor, lots of prayer, and perseverance (never give up!).
That's about it, for now. Love y'all. Chuck and Marge
---
I'm glad to see Marge and I share this emphasis on a sense of humor. In fact, I've seen it in action with them, like the time Chuck told a bunch of us the tale about when Marge sent him to the store for a bottle of fabric softener, which he could not bring home! It was an important, life-changing moment, yet he had us all splitting our sides with laughter as he told us how and why he could NOT pick up that bottle of softener and bring it home. Even Marge, who needed that darn fabric softener, was chuckling. Ah, but that's a story for another day . . .
---
And from me, Ann (Garretson) Marshall: A few practical tips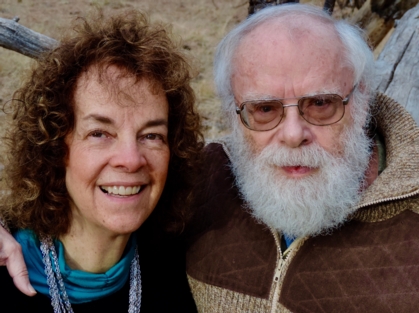 My "tips for a good marriage" zing through my mind at odd moments, and if I'm quick enough, I capture a few of them before they zip past. I've listed some things that are important for me. They may or may not be the same for others. Here goes:
A sense of humor. Everyone makes mistakes. You can laugh about them, cry about them, get mad about them, or ignore them. Laughing is the most fun, the most therapeutic, and the most endearing. Think back on your biggest family blooper. If you eventually found a way to laugh together about it, you may have a candidate for an item of family lore to entertain yourselves into the future, especially at reunions. A sense of humor has always been at the top of my list as being important in any relationship, clear back to high school (when I wanted to date Charles, now Chuck) The importance of a sense of humor in our marriage and our lives has extended through my parenting and professional years to this day.
Shared values. Whether it's politics, religion, money, children, food, fun, or something else, it's really helpful if you both agree on whatever are the "important" things in life. The others have spoken of the importance of religion in their marriages, so I'll mention a couple other values that can have a big impact on a marriage: First, if one of you is a spendthrift and the other a saver, you could be "buying" trouble. Or, if one of you likes to hang out at the bar and the other likes to go hiking in the mountains, something's got to give. The potential list could be very long, and it will likely differ from couple to couple. The main thing is to agree, together, on what is important to the both of you.
Flexibility and respect. So, what happens if you don't agree on some important things? That's where flexibility and respect come in. A Christian-Muslim union? A Tea-party Republican and a Progressive Democrat? An insatiable carnivore and a SPCA vegan? Both partners in a marriage should have the flexibility to pursue their own beliefs or preferences—at the same time they respect, and are willing to support—the other partner's commitment to the opposite belief or preference.
Equitability—without keeping score. For me, it's important not to keep score on who does more work around the house, who earns more money, who carries the larger burden of childcare, or who got the last piece of apple pie. I try to think in terms of overall equitability, whether it's about work or play or food. This applies to sharing decision-making fairly, avoiding the trap of taking turns, as in, "You got to decide where we go on vacation; it's my turn to choose our new car!" That kind of equitability might not turn out well. And speaking of sharing, make sure you carve out and share time together, to enjoy each other's company.
Attentiveness, and good listening. Pay attention to your spouse, and remember and act on what she or he says. If your spouse doesn't like surprises, don't throw a surprise birthday party. Instead, ask what would be the best way to celebrate that upcoming birthday—then show that you listened!
I'm sure other thoughts will continue to zip through my brain, but let's hear from you, our other classmates. What advice would you pass on to others about success in marriage? Click on the Message Forum in the navigation bar at the left and post your answers there.
---
And now, for the promised finale from Donald's Facebook page on marriage (warning, it's a double-header). First, click on this video (in the blue text), which he posted on Facebook:
And then enjoy a good laugh from another of Donald's Facebook posts, below.
---
"Sunday Morning Sex"
"Upon hearing that her elderly grandfather had just passed away, Katie went straight to her grandparents' house to visit her 95-year-old grandmother and comfort her. When she asked how her grandfather had died, her grandmother replied, "He had a heart attack while we were making love on Sunday morning." Horrified, Katie told her grandmother that 2 people nearly 100 years old having sex would surely be asking for trouble. "Oh, no, my dear," replied granny. "Many years ago, realizing our advanced age, we figured out the best time the best time to do it was when the church bells started to ring. It was just the right rhythm. Nice and slow and even. Nothing too strenuous, simply in on the Ding and out on the Dong." She paused to wipe away a tear and continued, "He'd still be alive if the ice cream truck hadn't come along."
"If you do not laugh at this, then you are seriously depressed. Make a doctor's appointment. I will never hear church bells ringing again without smiling."
---
With that, what else can be said?
How about Merry Christmas to all . . . and to all a Good Night!
Ann (Garretson) Marshall
Christmas Eve, 2018
---


Lest we forget, thank you to the veterans of the AHS Class of 1960. (Follow the link.)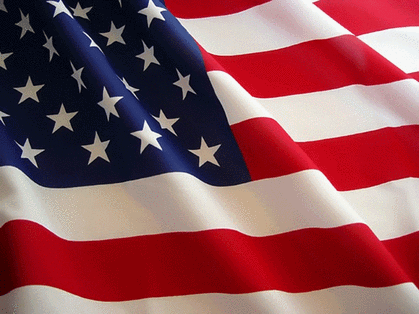 ---
For previous posts, and offers to be the NEXT Moose-on-the-Loose, click on

The Class Blog.
If you'd like to comment on the blogs, go to

Message Forum

and let us know what you think.