The Class Blog
---

Memories are made of this!
The most current contributuion to our Class Blog is on the home page – and we hope one of you, anxiously awaiting your turn to chime in, will step up to the plate to be next! On this page, we've posted all previous blog entries – all those memories, experiences, and bits of wisdom that we've been collecting for the past 50+ years.
And. . .

When it's your turn, dear classmates, just click on the "Post Announcement" button in the left column of our class website, paste your contribution in the little window, and Marge or Ann will help you get it up on the class website. After you have made your entry, you should 1) make a Moose-on-the-Loose entry at the end of the profile of the person to whom you are sending the Moose (so she or he will get a direct email about it), and 2) add your name to the list below so the Moose will make the rounds.

---
To Subscribe? Or not to Subscribe?
It didn't "ad" up not to . . .
Greetings, Classmates!
I shared a bit of back and forth this past week with Donald Crawford and Chuck and Marge Asay about whether or not we should allow our site lapse to a "free" site, which would be supported by—and subject to—pop-up ads, as opposed to continuing to have a paid, ad-free subscription. We focused on this question:
Are we, as the AHS Class of 1960, wiling to be subjected to the inevitable electronic tracking of our movements and preferences so the company owning our software can sell info about us to other businesses that can then try to sell us their wares?
We concluded we'd rather not. So we stuck our necks out and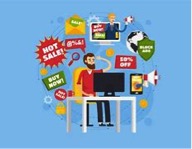 renewed our subscription again. Don fronted the $495 for a five-year renewal of our Class Creator software; and Marge and Chuck put up $54 for a three-year renewal of our "domain name"—www.Moosie1969.com. (You would think that they would fold the software and the domain name costs into one package, but not so.) And I committed to put more time and creativity into the content on our site, plus I'll also kick in some $$ to help defray the costs.
So How About a Vision for our Site?
I also propose this vision for our site: To make it a happy place to visit, to reminisce, to share stories of a lifetime, and to renew connections. My initial thoughts of how that would look are below. I encourage your input to and thoughts on including the following:
Things other classmates may not know about us now, such as accomplishments (at any time during our lives, before, during, or after our AHS years), and the accomplishments of our children/grandchildren. What are your best memories of accomplishments over the past 65 years, including our high school years and our children?

Special memories of our time, friends, and/or teachers at AHS. What can you share about someone who inspired you, or an event that sticks in your mind, etc.?

Items or thoughts we would like to pass on to our children and grandchildren. For example, many times I have wished that I had thought to ask my parents numerous questions about their lives, their hopes, their successes, their struggles, even how they met and fell in love. But by the time I thought of the questions, it was too late. I hope I can pass on some of that kind of information to our kids so they can ask questions, if they want. What information or experiences would you like to pass along to your kids or grandkids?

Helpful life tips to share with our classmates—for people of our age. For example, a while back, one of our classmates mentioned on FB that she and her husband had taken care of all their funeral arrangements before he died. I'm guessing she would be willing to share what she learned. Have you made such plans? Would you share them with us? A different idea: Do you have any cool travel hints or trips that would be of interest and accessible, or great things that make the place you now live a possible travel destination?

Philosophical observations on our (long) lives. What is your accumulated wisdom on child rearing, financial independence, recommended books or movies to see, etc.?

Other contributions, like information about the Colorado Latino Sports Hall of Fame, which Scotty Garcia is working to establish. More about that in my next post, so stay tuned. Do others of you have special projects you are working on that you can share with us?
On Creating a Safe Place to Visit . . .
One more thing: In general, I suggest we discourage using our website as a forum for strong opinions on religion or politics. Example: Chuck and I had an exchange recently about whether he could or should post his past editorial cartoons that may be relevant today. In light of the bruising divisiveness we have all been through with the campaigns, I suggested we not post such content on our shared pages, like the Home Page, The Blog, etc.
As I told Chuck, I'm not the boss of our site, but if we had an "anything goes" site, I think we would need to ask someone serve as the "monitor" to make sure we aren't sponsoring misinformation or providing a vehicle for personal attacks or otherwise creating animosity in our community, a task that FB and Twitter, for example, are having a tough time managing. (And, by the way, being a "monitor" is a job I don't want!)
At the same time, I must add that I think it's fine for Chuck to mine and recycle his life's work for examples of how history repeats itself, as he sees it. I know some classmates would welcome and embrace such posts, while others might see them divisive and the trigger for a lot of animosity.
I suggested he could put the cartoons on his personal page on our site. Or better yet, for any classmates who want to share this kind of information with our classmates, they can make it available via email, as Chuck has done, and we could let our classmates know about it in a general announcement, so folks can ask to be on an individual's personal email list, if they want.
Please share your thoughts about any and all of this.
Why Bother? Why Not?
Final note: You may ask, why should we bother continuing the site at all? I have asked myself that, too.
My conclusion: We are a community with a shared background. And believe it or not, some 20 of the 57 classmates who are members of our site have visited at least once in the past two months—and we've barely had any new postings. I'm thinking our classmates would enjoy seeing more content about each other—especially if we beef up our postings.
So if you agree that it would be good to continue our AHS Moosie 1960 site ad-free, please consider kicking in some cash to Don Crawford.

His address is: 4202 E. Broadway Road, Unit 16, Mesa, Arizona 85206. And if our collected contributions go over the top, I'm sure Don will make sure Chuck and Marge get an equitable share, and then apply any excess to extending the domain name two additional years, to match up with the term of our software subscription.
Also, please share your thoughts and comments on my suggestions above, either by sending me a message, public or private, through the site.

Thanks, all. Stay well. Stay happy. And if you aren't able to be with family this holiday season, stay connected through email, snail mail, phone calls, Face Time, Zoom, or what ever works for you.
I promise you, it's a great elixir, and you'll be smiling afterwards.
Ann Garretson Marshall

November 15, 2020
---
My, How Time Flies!
Classmates: Time is running out on our subscription to maintain our Moosie1960 website ad-free on the Class Creator server. Shall we continue it? Here are the costs to renew our subscription, which a number of your have contributed to in the past:
For three years: $385
For five years: $495
If we do not renew, the site will continue--with ads. I have no idea what level of ad saturation would be involved, or whether we'd be inudated with ads from the Neptune Society, walk-in shower companies, seeing eye dogs, testosterone boosters, or what.
Personally, I'd just as soon not have the ads, but it is up to you, classmates. What is your preference? Ads or no ads? Renew for another three years or five?
I'm putting a survey on the yellow column to the left. Please click on "survey" in the previous sentence and answer a few quick questions about this, so we'll know your preference.
Thank you!
One more thing: please note that I have added Carol Jaramillo's tribute to Richard on the In Memory page (see yellow column at left).
Ann Garetson Marshall
October 21, 2020
Another Challenge for Tom Ormond . . .
Hats off to Tom Ormond, who, as you may recall, endured and survived a brain aneurysm 12 years ago. Well, his challenges aren't over. Please continue to hold him and Linda in your prayers and send them strength: We got word from Linda over the weekend that Tom has been diagnosed with cancer in his lungs, some lymph nodes, and maybe a hip. He'll be going through tests before they have the full story and treatment plan.
As Linda adds, after the aneurysm, "he fought to get where he is today, so he has the will to Survive again." Their address is
lucky0111@ao.com
, if you want to send a note.
-- Ann Marshall
October 31, 2018
---
Where were you 52 years ago today?
November 22, 1963: a date burned into memory with the assassination of President Kennedy. I was at work in my college dormitory when I heard two girls crying. Letters from boyfriends sometimes brought tears, but this was different. I peeked out of the mailroom. "What's wrong?" I said.
"The President's been shot!" one of them wailed.
"Pr- President Kennedy?" I stuttered.
"I don't want to die!" the other one bawled.
I locked the mailroom. Called my friend Terry. We wandered through the campus benumbed. Our Camelot president was gone. Who could have done it? Why?
A bunch of us migrated to the home of our favorite prof, glued to the TV, where we spent the three-day weekend in his cramped little front room sharing tears and cold pizza.
I can still hear the drum cadence of the funeral procession, see the white stallions, Jackie Kennedy and the two children, 54 years later.
What are your recollections – or impressions – of that day?
To share your memories, look at the left column and click on the Survey, Where were you?
--Ann Marshall
November 22, 2018
---
Ocbober 14, 2017
Another 75th, and a classmate needs our help
I had a great conversation with Olivia Medina Moore this afternoon, and her voice took me back 55-plus years, when we were pals on The Alamosan and double-dating our last couple of years at Moosie. Her voice hasn't changed a bit.
But here's what has changed: our classmate Kathy Katsumoto Gilliland has had a medical episode, today is her birthday -- her 75th -- and she's in a nursing home. Olivia urges us all to give Kathy a call, noting that after she and Marge Curtis Asay called Kathy earlier, it brightened up Kathy's day to the extent that she was able to speak, drawing on old memories. I tried to call Kathy a few minutes ago, but she was at dinner. According to the person who answered, the best time to call is after 6 pm Central time. Or send her a card. Kathy is at the Harborview Nursing and Rehabilitation Center. 15 North Second, Memphis 38107. Phone #901-272-2494. Give her a call or send her a card. It will lift her spirits. And yours too!
Ann Garretson Marshall
---
April 16, 2017: Happy Easter!
More on celebrating 75
The birthdays have been piling on us, Classmates – more and more of us have turned 75, and plenty more are right behind. And we've had various classmates offer hopes and advice as to how this momentous b-day might be celebrated. In fact, this very weekend Tom O and a gang of pals are gallivanting around Utah to mark his big day.
And now, finally, I've finally decided where I'm going to mark my three-quarters of a centuryof accumulated wisdom and experience. On London Bridge. At Lake Havasu City, Arizona. Wowsers. Where else could we get a taste of London for a sliver of the price? And for a bonus, the Google maps shows a nearby wildlife refuge en route, so we'll check that out, too, along with whatever fine dining Lake Havasu City has to offer the wayfarer. I'll post some photos on my Classmate page after we get back. And I encourage all of you to do the same with your b-day celebrations photos.
In addition, we'll leave the Celebrate 75 Survey (over on the left navigation bar) open, so when you're ready, please click on that button and add to the survey as you settle on or carry out birthday plans. We'll celebrate with you vicariously.
Ann Garretson Marshall
---
November 4, 2016
Something to brag about; something to share
Classmates:
In all the craziness of this election season, I like to do things that help me keep my sanity. And no, I'm not going to talk about the election. Why would I want to get everyone's blood pressure up – on all sides of the issues?
One relief valve for me is to read the funny papers. Remember those – the illustrated, gently humored commentary on daily life in four panels or fewer? Used to be black and white line drawings during the week and full color on Sundays; nowadays they're full color all week.
Anyway, I've started noticing the way the comic strip writers portray "old people" – you know, with double chins, shapeless forms, a bit tottering . . . and you know what? I'm a bit offended! I think theythink they're talking about us– and people like us, who have the privilege of having walked this earth for three-quarters of a century, give or take a few months. Yes! What an amazing accomplishment. We have lived to see the old black phone morph into a personal digital assistant that we can answer, even when we're not at home . . . and that digital assistant can produce, on demand, any book in the library; cough up useful information, on the spot, about the correct greeting on Yom Kippur; keep track of your phone numbers and appointments; capture live action; find a recipe for chicken scaloppini; or sing you a lullaby. And that is just the tip of the iceberg. We have seen so many changes and done so many things that we are walking repositories of experience. That is special. Not old!
Celebrate 75
So yes, most of us are on the cusp of celebrating 75 years on this earth, and some of us already have. Three-quarters of a century is something worth celebrating! So what did youdo, or do you want to do on your 75th? I need your advice – quick! My husband's b-day is coming up this month . . . and mine follows in April.
So if you would, please click on the "Celebrate 75" and share with all of us your best ideas for a 75thbirthday celebration.
In case you didn't know, once you fill out your survey, your answers get recorded for everyone to see (minus your name, unless you actually write your name next to each response), so check back from time to time to see what other people have answered.
Okay! I managed to write a whole page without going off on the election, which has kept me wound up for months now. I know I'm not the only one, and I know we have some very divergent opinions within our class. One thing I'd like for us to think about together is how do we pick up the pieces and go forward beginning November 9? Potentially half of us will be thrilled and potentially half will be devastated. What should we do to maintain friendships that have spanned somewhere between half and three-quarters of a century? It's a topic for a future discussion, I believe. Not now. Meanwhile, go vote, if you haven't already.
Ann Garretson Marshall
---
July 20, 2016
Lloyd ties the knot:
Don't miss this and other recent updates
Hope everyone got the updates from Jacquie Ironfield and Donald Crawford.
Jacquie writes that she is getting more mobile -- driving all around, meeting Sharon Rogers Rankin for lunch. Click here and scroll all the way to the bottom for more.
Donald shares photos of Lloyd's Koonce's recent wedding, and walks down memory lane of his lifelong friendship with Frank Newton. Click here and scroll down for both stories.
And wouldn't you know? Chuck Asay has a new profile photo -- it's the real Chuck, we all suspected. Check it out here.
Ann
---
July 15, 2016
Bill Burrows the Preppie
Take a look at one of our most colorful grads. (Click on "colorful grads" in previous sentence, then scroll to the bottom of the screen.)
Meanwhile, still waiting for folks to take the bucket list survey. Click here. (And if it shows up already filled out, please send me a message, so I can figure out how to correct it. Thanks!)
Ann Marshall
---
July 10, 2016
So what's on your bucket list?
Tying the perfect fly? Bowling a perfect line? Discovering a new species? Traveling to Timbuktu? Watching your great grandkids graduate from college? It's probably something different for every one of us – if we all have bucket lists, that is.
I didn't realize I did – Terry seems to have an unlimited list that we were gradually ticking off – until we acted on my dream of venturing to the bottom of the Grand Canyon. For many years, I thought I'd like to walk to the bottom. Okay, hike. But then we hit on the idea of taking a rubber raft trip through the canyon. Wow, what a breath-taking, eye-popping, unforgettable experience. I posted a few words about my trip on my personal profile page, plus some photos. Take a look.
And now I realize I still want to go to Yosemite National Park. Sounds like a good way to celebrate my 75th birthday, don't you think?
With this post, we are inviting you to share what's on your bucket list . . . and whether and what you've ticked off that list.
Check out the survey on the yellow navigation bar at the left or click here, and let us know your hearts' desire and what you've done to achieve it. Then, if you've achieved some major milestone, go to your own profile page and tell us more about it – plus share any photos you may have. Go ahead. Do it!
Meanwhile, do I still want to walk to the bottom of the Grand Canyon? Um . . . probably not. But the helicopter ride out was gr-e-a-a-a-t!
Oh, and by the way, did anyone go to the July Fourth multi-year reunion? If so, please contact me, so we can say a few words about it.
Ann Garretson Marshall
July 10, 2016
---
May 8, 2016
Come on down for . . .
Our own version of... Woodstock?
Ever wonder what happened to the "youngsters" in the Class of '61 and later?
Or the "oldsters" in the Class of '59 and earlier?
Here's and opportunity to find out: the Class of 1961 is holding its 55th year reunion – and we're invited. Yes, they are inviting Classes of 1955 through 1964 as GUESTS!
When? FRIDAY, JULY 1 and SATURDAY, JULY 2, 2016
Here are the plans:
Meet and Greet: Friday, July 1, 2016 at the Elks, 4th and Hunt in Alamosa from 6:00 p.m. - 10:00 p.m. No meal served. Cold finger foods, coffee, and tea, and a cash bar will be available.
Class pictures will be taken by One Hour Photo. Cost will be $12.00 each for an 8 X 10 photo. You must order your picture in advance on the registration form.
A memory table will be set up to remember our classmates who are gone, but not forgotten. Contact our class rep, Virginia Hardy Martin, if you know of a deceased classmate others may not be aware of.
Prime Rib BBQ: Saturday, July 2, 2016 from noon to 3:00 p.m.at the Elks again, cooked by '61 classmate Don Weaver. Please bring a covered dish to go along with the BBQ and a serving utensil for that dish. Plates, cups, plastic ware will be provided by the Class of 1961, as well sas water. Bring your preferred soft drinks.
NO ALCOHOL!!
We do not have a liquor license so no alcohol will be allowed. Thank you for your cooperation.
No other events are planned for the 4th of July weekend. Alamosa will have events planned for the 4th. Everyone will be able to choose what to do.
Contacts are:

Dennis Nash (dnash@uwsp.edu) - classes of 1955-1958

Virginia Hardy Martin (ginnymartin42@yahoo.com) - classes of 1959-1960

Marylee Myers (maryleem43@comcast.net) - class of 1961

Connie Helms Carpenter (atb-connie@qwestoffice.net) - class of 1962

Kathy McGinty (mcginty@taosnet.com) - class of 1963

Judy Perko DeGolyer (jadeww@mindspring.com) - class of 1964
Great opportunity to reconnect with old friends -- and make new. Sign up by May 15! Watch for a registration form in your email.
---
We also bid a sad good-bye
Classmate Leo Griego died April 12 at the San Luis Care Center. Leo was a man who enjoyed going fishing, shopping, collecting antiques and above all he loved the time he was able to spend with his children and grandchildren.
For more, see: http://www.alamosanews.com/v2_news_articles.php?heading=0&page=73&story_id=41543
The 1960 Moosie community:
A feeling? A place?
A set of memories?
February 7, 2016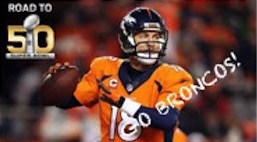 What does it mean to be part of a community – is it a place or a feeling or a set of memories? And what does it mean to us to be part of the Moosie Class of 1960 community?
This question started fermenting in my brain at Halloween last year. Of the 200 or so trick-or-treaters who rap on our door and demand candy, we typically recognize . . . no one. Thank goodness for the nine-year-old kid next door, who lifted his Darth Vader mask last year and said, "Hi, it's me, Colin." We figured the two princesses with him were his little sisters. Three. Wow. We were feeling pretty good, until the older kids – upper teens with gigantic pillowcases to fill and minimal effort to dude up – took over the field. After that was the gray-haired guy disguised as a can of beer. He held out a big ragged grocery bag.
We were about to turn off the lights and shut down the candy train when a young woman glided up the walk. Pillowcase. No costume. But very friendly. Grumble, grumble, when do these kids grow out of this?
"This is for my daughter. She's coming," Young Woman announced.
We waited, then a young man pushed a tiny infant up to our door in a stroller. A baby! Too young to be eating candy, let alone to know what Halloween is all about. I was about to say something very curmudgeonly, like maybe, "Why isn't this baby in bed?" Or, "You're using the baby as a front for your own sweet tooth, eh?" Or, "You're not going to feed that baby candy, are you?"
Luckily, I didn't. It turns out Young Woman grew up in our neighborhood. As a small ragamuffin, she used to talk to us in the park, and we marked her growth at our neighbor's annual Christmas party. Cheered her on as she went through culinary school. Now, she's all grown up, has a baby. We spent the next half hour catching up on her life. It was an experience I'd never had: living in the same neighborhood long enough to see this woman-child grow up. I finally live in a community, starting our sixteenth year! Who would believe it turns out to be Las Vegas?
Then I realized: I'm part of other communities, too, like the Moosie Class of '60. I love the fact we're all about 73 or 74 or 75 years old. No dancing around it, we are at the threshold of the three-quarter-century mark. Individually and together, we've seen and done a lot – all over the world – yet we share that unique Valley history, that sense of magic about the sunrises and sunsets over the Sangre de Cristos, the achingly blue skies winter and summer, the mighty Rio Grande meandering its way through ranches, towns, and farms, only not so grande we can't swim or wade across.
It feels somehow like family that for so many of us, even after 55 years, we can call one another by first names, and everyone knows who we mean – Arthur, Coie, Eileen, Jerry, Larry, Donald, Marge (aka Margie), Joyce, Rosemary, Cecil, Eddie, Camille, Barbara, Eugene, Trudy, Dorothy, Patricia, Patrick, Leo, Viola, Lila Jean, La Rene, Jacquie, Richard, Wayne, Adoph, Kathleen, Mary Lou, Lloyd, Eleanor, James, Norma, Walter, Abe, Gabby, Wilma, June, Olivia, Roxie, Frank, Sharla, Bonnie, Victor, Joanie, Sharon, Berl, Tim, Duane, Rita, Ned, Joe, Holly, Lois, Ardith, Augustine, Barry, Maybel, Diane, Susan, LeRoy, Lyle, and more. And I suspect most of us love hearing from, and about, our classmates, something we who work on the class website sometimes are too slow to keep you up on. We do appreciate your generosity in keeping this site alive another five years, and will strive to do a better job of sharing info about one another.
So that brings us to today, February 7, 2016. Or as some people like to call it, Superbowl Sunday. How about them Broncos? Is that something else we share – that home team spirit, rooting for our Broncos this day? Most likely, yes; even if we have moved away. But would it be interesting to know how much of a pull the home team still has?
As an experiment in finding other ways to keep us connected to one another, we are posting a new survey on the site, one to see how many of us are Broncos fans, and what we would say about the Broncos on this Superbowl Sunday. The way it works is, in the left navigation bar, click on the line that says, "Broncos fan?" A three-question survey will pop up. Answer the questions, and the cumulative answers should show up, but without individual names, either within the survey, or on a different line in the navigation bar. If you want people to know your sentiments about the Broncos, include your name in the final answer.
This is an experiment in expanding our interactions . . . so take a breath, and dive in!
Ann Garretson Marshall
Superbowl Sunday, 2016
---
We did it!
We're ad-free for five more years
August 29, 2015
Good news, classmates!
Thanks to the generosity of many of you, we have raised enough money to continue the class website another five years – ad-free. Thank you, thank you, everyone! We will do our best to give you your money's worth, starting today with a tribute to Coach Ike Ortega from David Garcia . . . and, sorry to report, some sad news from Eleanor Lucero Chandler. Scroll all the way down to see both below.
If you intended to send money . . . and never got A Round Tuit (what is a Round Tuit, anyway?), you can still send it to Larry Cox, 16041 W. Yavapai Street, Goodyear, AZ 85338, and we'll refund some to some donors who went Over The Top with their generosity.
Thanks also to Terry Jones, who has joined the editorial staff and offered to help with ideas and collecting information for the website.
And now, on with the news, and the first entry in ages to our class blog, "Memories Are Made of This"! Thanks, Scotty!
Marge, Larry, Terry J, Olivia, Ann -- your website editorial board
Class of '60 Blog. . .
Memories are Made of This
Please note: We understand several of you committed to post your memories of Coach Ortega. Please consider the following tribute an invitation to do so. Also, our only photo of Coach Ortega is this one with Coach Vigil from the 1959 yearbook. If anyone has something better, please send it to Ann Garretson Marshall. Also, we welcome tributes to other faculty, staff, or any mentors who had an important influence on your life.
Issac P. Ortega, teacher, coach , administrator
Ike will be remembered as the patriarch of a great family, an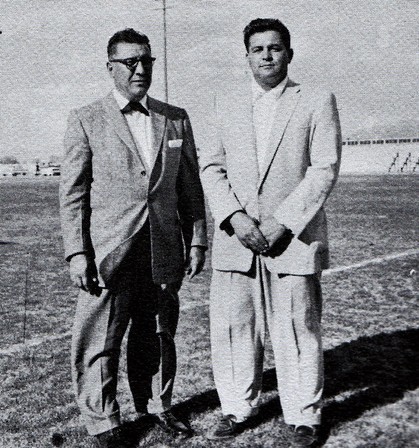 exceptional and revered teacher, coach, administrator and as a results driven Alamosa City Councilman.
He was well known, respected and admired by placing a high premium on discretion and by advocating that the pursuit of mediocrity was never an option. He was a pillar in the community and a role model for those that he influenced personally and professionally in many walks of life.
He matched the intellectual curiosity and the depth of knowledge of notable leaders including Coach Joe Vigil, Dr. Ignes Lucero, Dr. Julian Samora, Dr. Bert Martinez, Federal Appellate Judge Carlos Lucero and too many others to count.
His compassion for students, athletes, individuals and families is well documented and decades of impressive achievements are fairly clear.
By imparting a friendly and positive attitude, Ike conveyed exemplary trustworthiness by dedicating his energy toward the creation of purpose in education, sports and civic responsibilities. Ike's passion for sports motivated his own sons, students and athletes to be the best they could be inside and outside of the classroom.
He believed that students in America are offered a challenge to succeed in an atmosphere of confusion, cultural ambiguity, prejudice, economic injustice and constraint and challenged all of us to believe that no one should take pride in being ignorant.
Ike advocated that confidence and determination are the ultimate key factors in a person's quality of life and that attributes of hard work, dedication and commitment should always be seriously applied to the task at hand and, most importantly, to believe in ourselves!
-- David & Anita Garcia

And now, Grieving News . . .

Classmates, Dave my husband passed Friday July 10th of cancer. He was sick for a year. Never thought it could happen to me, and why not? It hurts so much only prayers can help.
He was a very kind and giving man to every one. Ann asked me to share this with you since many of you have also been through a great loss.
-- Eleanor Lucero Chandler

Some time in July 2015 . . .
Can you hear the wedding bells?
Ce-le-brate! Ce-le-brate!

I'm sorry not to have kept up with this website for a couple of years. But now I do have an announcement that will interest a lot of you. On August 15 of this year I will be getting remarried to guess who? Paul Witt of the class of 1961. We will be married here in Edmonton, Alberta Canada, and then will be moving to Ripon, California where he lives.
Yes!!! No more winter for me!!!
Phyllis Schneider Eerkes
Congratulations, Phyllis!
---
Our website staff doubles!
~January 2015. Greetings, Happy New Year, and great news, Classmates! Marge Asay and I have added new power to the class website creative staff: Olivia Medina Moore and Larry Cox, both of whom also worked on The Alamosan at Moosie, have volunteered to help out. It's beginning to feel a lot like the good ole days!
So here's hoping the "drought" on our website is over as we find new ways to keep you updated on our classmates and hometown happenings. We welcome your suggestions on what else we might include on the site and questions about classmates and activities we could follow up on. And we thank you for hanging in there patiently waiting for the next installment!
---
All new photos and trivia . . . except for the historic pix
Track 2015 with the Cruzin' Alamosa Calendar
~January 2015: The "Sexy Sixties Sisters" have published a new calendar – Cruzin' Alamosa, 2015 Calendar – which features then-and-now photos of well-known spots in Alamosa, PLUS more than sixty snapshots from the 2014 All-Sixties reunion last summer, three dozen photos from the "old" days, and lots memorable trivia. It's both a collectors' item and a delightful walk down Memory Lane. Order yours now! See calendar cover below.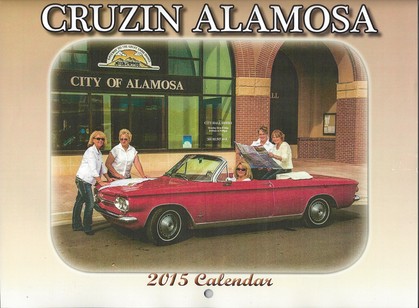 All Proceeds go to the "National Center for Missing and Exploited Children" in Isabel's name. The Calendar notes, "As many of you know, little Isabel Celis was abducted on April 21, 2012 at the age of 6 from her home in Tucson, AZ. Her case is still open with new leads, but she is still missing . . . [the Sixties Sisters] decided to create another calendar to raise funds to help find Isabel and other missing children."
The cost? $28.00 – that's $25.00 for the great memorabilia and artwork, plus $3.00 shipping. Photos on the calendar pages are by David Peasley, a fourth generation resident of Alamosa specializing in landscapes, architectural images and fine art. The reunion snapshots are by AHS grads who attended. Send your $28 check to:
60's Calendar Fund Raiser
4720 Garnet Dr.
Colorado Springs, Colo 80918
Terry Gibbs a Calendar Boy?
Okay, so maybe it's his and Fidella's Chevy who made it on a calendar . . .
Some of you may recall this 2015 calendar is the second one these fine ladies have created. The first one – for 2013 – was also a fund-raiser for Isabel and the National Center for Missing and Exploited Children, and featured classic cars – duded out, big time – owned by AHS graduates of the 1960s. Oh, and did I mention the car photos are enhanced by the Sexy Sixties Sisters in appropriate sexy dress? See "girl-enhanced" photo of Terry & Fidella's '57 Chevy Belair (from the April calendar page) below -- parked, of course, in front of their own Campus Cafe. Remember the "poodle skirt" and saddle shoes, folks? How could we forget? And who among us never had milk shakes and burgers at the Campus Cafe?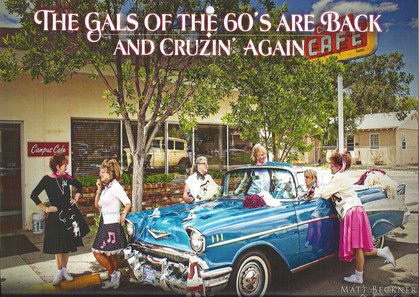 A few – ten, count 'em, just 10 – copies of the 2013 calendar are still available. Isabel's story is in this 2013 calendar. She is a close relative of Charlotte, one of the SSS women responsible for creating these calendars.
The Sexy Sixties Sisters are selling the 2013 edition for the same price -- $28 -- because of where the money is going. Anyone getting one will have great memorabilia of AHS, plus some great pictures of AHS graduates' cars and, of course, "the Sisters". So step right up, folks, and get two for the price of 2! You'll be glad you did!
Ann (Garretson) Marshall
---
October 14, 2014
Updates from around the state
Greetings Classmates,
Well, it finally happened -- my to-do pile became so heavy on the corner of my desk that it finally tipped the whole darn thing over. The only casualties were a couple of cockroaches and Grandpa Cherbil. We're going to miss Grandpa Cherbil -- grandkids used to crawl all over him, and he took them for walks to the park, even after he lost his vision and started walking with a cane. We didn't mind that so much -- around here, we don't throw people away just 'cuz some of their parts don't work so well any more. Now the cockroaches, they're a different story. They always have a back-up team, so it's hard to say we "miss" them. And they haven't risen to the status of the scorpions, who are in our catch-and-release program -- if we catch them in the house, we put them in a jar and release them in the pond-park down the street. It's the kind of truce we have between the critters who were here first (the scropions) and the critters who are bigger (us).
But back to the desk. The good news is that a couple of the items I'd been accumulating to put on our website floated to the top of the pile, which I took as an omen that I'd better get on the task. S-o-o-o-o . . .
Item One: Adela Maestas Martinez
I'm sad to report that 'Dela died April 5 in Denver. She was one of our marriage champions, having married in 1960. For more about 'Dela, or to add your personal memories, please see the "In Memory" page.
Item Two: Pretty Women, She's Got You, and Silhouettes on the Shade
One of the most entertaining moments at the All-60s Reunion in July was a performance by the Sexy, Sixty Sisters. I was lally-gagging around taking photos when they started, but quickly switched to video when I saw what was coming down -- but not quickly enough. My apologies for missing the opening frame, when these lovely ladies shuffled out on the dance floor with their walkers and terry cloth slippers. The performance otherwise speaks for itself. Take a look:
That's all for now, Folks. we'll -- the replacement cockroach and I -- we'll be back with you sooner than we were this time around. Our thanks to all of you who have waited patiently for us to get back at the keyboard.
Ann (Garretson) Marshall
Picture postcard from the All-60s Reunion
Hi, folks,
For those of you who missed the reunion, here are a few photos to give you a flavor of the event:
Before the beginning: The worry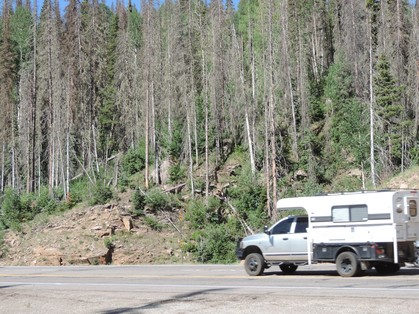 We drove into the Valley over Wolf Creek, and were shocked to see millions of dead trees, still standing, victims of a terrible beetle infestation. My worry? Memories of the fire last year made me think: This is too much kindling. Pray for rain. Lots of it.
Event 1: The gathering together
After the July Fourth parade, we began to convene in a bright yellow tent at Cole Park. I mention the color because it seemed to turn some of us yellow. Honest, no one actually got sick!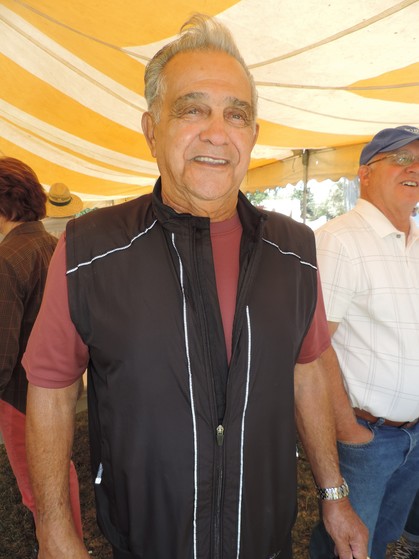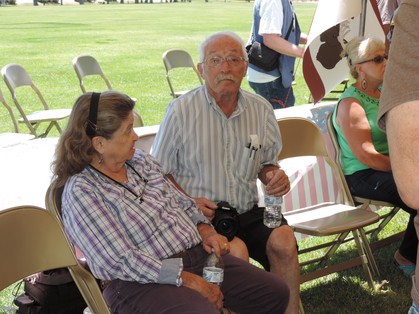 Event 2: Rededication of the Coach Vigil statue
For reasons I don't understand, a policeman knocked over the statue we dedicated to Coach, breaking some part of it. Huh? It's a life-size bronze? What did he do -- run over it with a MacTruck?Scotty Garcia organized a re-dedication of the statue in a new location.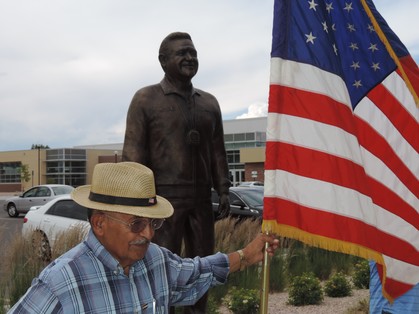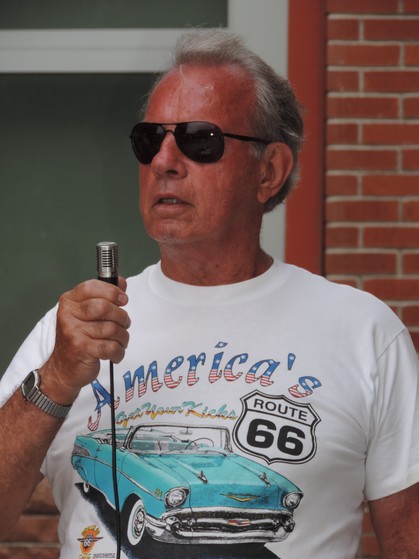 Time out: A stroll around town
Remember these places?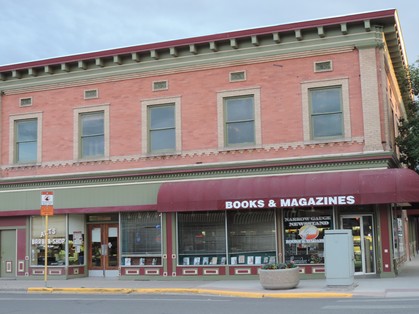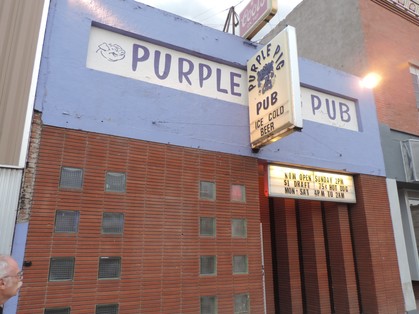 Event 3: The sock hop
The intrepid went to a sock hop after the fireworks. I didn't make it to the fireworks, let alone the dance. I would be delighted to post photos from those events from anyone who has them. Please let me know!
Event 4: The dinner and dance
The key event for the 200-plus folks who came was a banquet, followed by one of its kind entertainment by the "SS Gals". A few photos of teacher Russ Hillock and fellow classmates follow, along with a still shot from the entertainment. I hope to attach a video later on, as soon as my skills grow up to meet my expectations.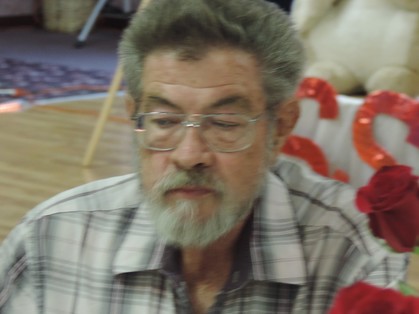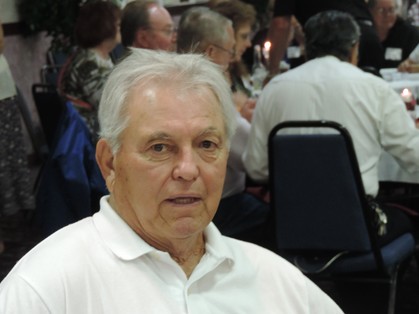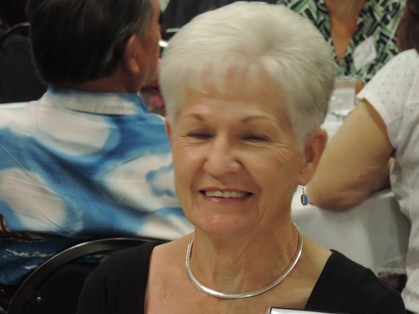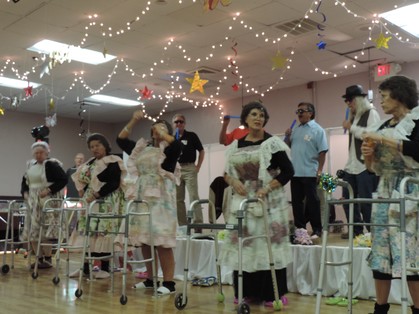 The ultimate Moose event -- for me
Would you believe we are still wandering around Colorado, waiting to go to Terry's reunion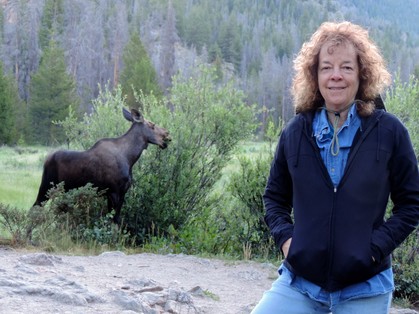 in Center next week? The time hasn't been wasted: I had my own special experience this week that just raised, well, "moose-bumps!" If I look nervous, it's only because I am!
And that's all folks!
Ann Garretson Marshall
---
Marge and Chuck Asay caught up with Richard Jaramillo Saturday morning, March 3rd. Yes, my friends, you read correctly March 3, 2014. . . and looking on the bright side, if this long silence were the gestation of a baby moose, this blog would be right on time. So we're not complaining (because the buck stops here). We do apologize for taking so long! We are happy to share this latest Moose on the Loose, presented in a new question-and-answer format. Chuck did the interview while Marge took notes on the answers. Let's listen in. . .

* * * * * * * * *
Richard Jaramillo on Center Stage

Ring, Ring!

Chuck: Hello, Wing-Woe Wilson? What's goin' on?

Richard: Hey, Chucky! Guess what? We just spent a month in Colorado in January! I talked to Alan Simpson, Hugh Hiatt, Terry and Fidela Gibbs and tried to get together with Patricio (Gonzalez) but he didn't call back until we were in Texas. Carol and I are planning to come back to Colorado this summer.

Chuck: Richard, how did you wind up in New Jersey after leaving Alamosa in 1960?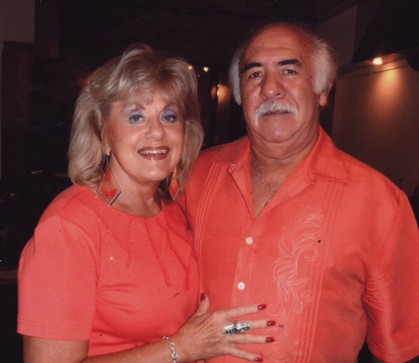 Richard: When I graduated from high school, my stepfather said 'You don't have a home here any more, and we don't know what you're going to do.' So I went to stay at my grandmother's in Antonito for awhile, but I thought if I stayed there I'd become an alcoholic, a drug dealer, or end up in prison.

So, I went to Pueblo and signed up for a tour in the military. I spent four years in the Army, and after I got out, went to visit an aunt and uncle in New Jersey and fell in love with the beaches and the music.

While I was in New Jersey, I married Linda, a Russian woman, and we had three children.

My oldest son Richard got a BA in Biomedical Engineering at Drexel University, and got his Master's degree at Widener University. Mark, my second born, went to Delaware University and is now a policeman. And Tara, my daughter, is a nurse practitioner. All the kids live within 10 or 15 miles of each other.

Chuck: What kind of work did you do over the years?

Richard: After four years in the Army as a communications specialist, I worked at the sheriff's department in Woodbury, NJ, for 16 months, but I didn't like it very much. I got an offer with RCA, which later became General Electric, and then became Lockheed Martin. I was a maintenance mechanic for those three companies 40 years all together.

Chuck: What was your best accomplishment?

Richard: Oh my goodness, that's an easy one: my three children.

Chuck: How did you meet Carol?

Richard: My daughter got tired of me pestering her for help with the Internet and other things. One day she said, 'Dad, I'm going to put you on Match.com.' So I traveled all over the country dating women! Carol was one of the women I 'met' online and I had stayed in touch with her for several months.

When I decided to retire to Myrtle Beach, I called Carol and said if she ever wanted to move to Myrtle Beach to come on down. And guess what? She did! First time we ever met in person! We talked for about half an hour and then I said, "Carol, I've been running all over the country, dating women for almost 39 years. I'm tired of it. I have a question and there are only two answers. If I asked you to marry me, would you?' She thought a little bit, and then she said, 'Yes!'

Carol has two boys, one flew on Air Force One with President Bush. Both of her sons were in the Air Force and now are high tech engineers.

Richard dipped his finger into the political world. He ran for the state assembly in New Jersey and decided to withdraw after seeing how dishonest politics was. He said, 'Hey, you know me, I tell it like it is. If I did that, somebody would probably kill me. I didn't like politics. No way in hell!'

Chuck: What is your best memory of AHS?

Richard: Everybody talks about the prejudiced that was there. I didn't see it. I was so involved in sports and loving all the women, I didn't have time for that. I don't ever remember being a victim of prejudice. I liked everybody.

Chuck: You looked pretty tough back then. How did you get the nick-name, Wing-Woe Wilson?

Richard: It was Eddie Esquibel who came up with that name. Patrick Gonzalez, Bony Romero, Frank Martinez, Eddie, and I used to work in the lettuce fields in the summer. Farmers had a term for the way they planted the crop – "windrows." But I didn't hear it right. After one of our breaks, I said, "Wing-woe…let's go out and do some wing-woeing. That's where I got the name "Wing-woe Wilson," and it stuck.

Chuck: Is there a teacher who made a difference in your life?

Richard: Oh my goodness, Coach Vigil. He was an all-around father, grandfather, brother, priest, and friend to me.

Chuck: Who was most influential person in your life?

Richard: I would have to say it was Coach Vigil. He told me the truth about myself. I got in trouble one time and he said to me, "If you do not straighten out, you are going to be a disgrace, not only to your family and your race, you're going to be a disgrace to yourself." That got my attention!

Chuck: What kind of thing did you do to bring this on?"

Richard: Tom Melgares told me he could get us free tickets to a play. Tom broke into Lloyd Koonce's brother's locker and stole his billfold. Inside there were six dollars and tickets to the play.

When we showed up and handed Mr. Hawkins the tickets, he knew something was going on. He and Coach Vigil asked me how I got the billfold and I told them Tom took it. They asked where the billfold was. Tom told them he threw it in the river, but he hadn't really thrown it in the river; he had thrown it down the outhouse behind his house.

"You've got to go get it," I said. Tom did get it and washed it in Clorox many times. Then he dried it out and gave it to Mr. Hawkins. He made us write an essay on the creation of pilferage.

Coach Vigil said to me, "Do you realize that this could have given you a police record for the rest of your life?" Boy, I straightened myself right up.

Chuck: What is your favorite leisure activity?

Richard: Makin' love to my honey. Ha! I love music, love karaoke, love dancing. I would go dancing seven nights a week if I had the chance. When you called, Carol and I were dancing in the kitchen!

Chuck: What advice would you give to your classmates?

Richard: Listen to your mind and to your heart. Let your spirit guide you. None of us can do anything without that. We all have one Savior, every one of us. If you learn to believe in your heart in the power of prayer, you will never go wrong. Most people have no concept of the power of prayer. They only pray when they need it. We need it every day of our lives. We're all God's children, every one of us.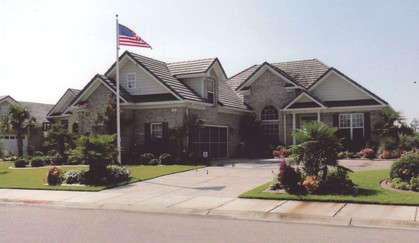 What's the best thing God ever gave us? My grandfather told me that the best thing God ever gave you is your wife. She's your lover, partner, and friend.

Richard talked a bit about how he is related to Eleanor Lucero, our AHS homecoming queen. They are either first or second cousins. And about our 50th class reunion he said, "We only go around once. When you have a chance to get together and you don't, you're missing a lot. It was great to get together with everyone – amazing!"

Richard and Carol live in Myrtle Beach, SC – one mile from the ocean. [Wow, take a look, y'all! Hey, how about having our next reunion on the beach??]
Cuba Impressions...
We used to think of Cuba as politics, power, and … of course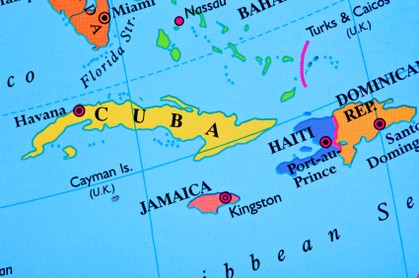 romance: wild music, exotic night life, quaint sidewalk cafes; Hemingway and Jose Martí; sugar, rum, and cigars…plus Che, Fidel, the U.S. blockade, and Bay of Pigs.
Probably a good many of us can remember exactly where we were when President Kennedy went nose-to-nose with Khrushchev during the Cuban missile crisis. I can still feel the hairs on the back of my neck tingle as I recall how scared we all were that we were headed for nuclear war.
More recently, Cuba has become the forbidden fruit: a place just 90 miles from Miami that our government has ruled off-limits. Meanwhile, Cuba drew 2.5 million tourists last year, mostly Canadians and Europeans. Terry and I wanted to be among those visitors; we wanted to see how Cubans have fared in the 53 years since the revolution that ousted Batista and ushered in Fidel.
The travel restrictions have now eased, and Americans can go to Cuba legally for educational or humanitarian reasons. So…we volunteered to join a small group (seven of us in total) to take medications to Jewish clinics in Cuba.
As you might guess, everyone else in the group was Jewish, so we learned a lot about Judaism, in addition to finally visiting Cuba. So what did we learn? Some highlights:
Pre-60s cars: yes, a fleet of pre-Cuban revolution American cars still operates in Cuba. Some are pristine, others are full of … character.
Pre-60s traffic: the traffic also seems to be from a time long ago – few clogged streets anywhere in Havana, few traffic lights, even – due in part, I suppose, to the fact car ownership is not universal. We saw professionals lined up in white shirts hitchhiking to work. And at key intersections, a monitor in a yellow jumpsuit flags cars down to help the hitchhikers get rides. I believe you are required to accept riders if the monitor says so.
Colonial buildings: Havana has a large stock of elaborate colonial architecture…in varying stages of decay and restoration. The ones in worst decay have been known to collapse, some with residents inside. Those that have been restored are, in some cases, breath-taking.
Repression: we saw no overt signs of harsh treatment or control – no soldiers with guns, no checkpoints, no loudspeakers, no minders restricted our movements. Nevertheless, we encountered the occasional bold – or curious – Cuban who was unafraid to express a desire for freedom of expression or the freedom to move to another country. One person told us that Cuba does have a neighborhood watch program – in which everyone is encouraged to tattle on neighbors engaged in forbidden activities. Meanwhile, cheery billboards around the city and the countryside extoll the virtues of socialism and the success of the revolution; and express admiration for and gratitude to Che Guevara.
Commerce: the government owns almost all commerce, so we saw no commercial billboards, no neon, not even shops with signs vying for our attention and our dollars. Nor did we see gift shops in museums, or attractive storefront displays. Some private businesses have been allowed in recent years, a few restaurants, and small lodging places. We didn't stay in any of these lodgings. We did dine in a few privately-owned restaurants; and the food we had in all restaurants was delicious – lots of black beans and rice, plus swordfish in lemon sauce, fall-off-the-bone chicken, lobster, lamb, and beef, scrumptious desserts, and of course mojitos by the score.
Poverty: we saw no children – or adults – begging on street corners or hawking cheap trinkets to make enough to get by. Housing and food are subsidized. Yet we understand that professionals may earn as little as $30-50 per month – not enough to live on. They have to supplement their salaries, and we did get hit up, sometimes by well-dressed adults during friendly conversations – for money for the kids, their education, medicines. Each time it was so unexpected we could barely respond. Our leader admonished us not to succumb to these approaches. At the same time, she encouraged us to leave a cash tip each morning, along with shampoo and soap for the hotel housekeepers. "If they can't use it themselves, they'll sell it."
The Jewish community: the number of Jews has declined from 15,000 in pre-Cuban revolutionary days to about 1,400 today, mostly because they formed the backbone of the business community. When Castro nationalized all commerce, many people, including Jews, left. The remaining Jewish community has built a Holocaust museum and a memorial in recent years. The museum exhibit says, among other things, that Jews in Cuba are not discriminated against. After the revolution, they were allowed to continue teaching Yiddish in a private school, broadcast on the local radio station in Yiddish, and maintain a Kosher butcher.
Our mission: before we left, we collected donations of and bought over-the-counter medicines, dental and medical supplies, leg braces, and more. It was 66 pounds, once we removed the packaging (as directed) and put all the pills and Band-Aids in Ziploc bags. We split our donations into two loads and donated one load to a Jewish service center in Havana and the other to a center in Santa Clara. These centers have small clinics that provide services to everyone in the neighboring communities. We also visited cemeteries and left small rocks on the graves of local heroes – and on the grave of our Atlanta group leader's aunt. (Flowers die; a rock lasts forever.)
The people: we didn't get to meet many Cubans, a disappointment for us, but something I suppose is common when one takes a tour. We did develop warm friendships with our fellow tour members and guides and look forward to continued interactions with them.
Health and education: education through university level is fee. Cuba has a 99.9 percent literacy rate; classroom size averages 12 to 1. Medical care is also free, although people do complain of long waits for specialist care, deteriorating facilities, and lack of medicines.
In short, communism lives on within the dictatorship. Paradise? No, but it simmers with promise.
Terry has written in greater detail about each of these and posted additional photos; go visit http://www.terrymarshallfiction.com/Cuba-blog-landing-page.html. Your comments and questions encouraged!
Ann Garretson Marshall, Summer-Fall 2012
Scotty Garcia did something spectacular for the class of '60 awhile back in honoring one of our most respected teachers, Coach Joe Vigil. People gathered from all over the world at Adams State College, November 12, 2010 for a huge banquet in his honor, followed by a dedication of a huge statue of Mr. Vigil the following day and many, many tributes. Lots of our classmates were blessed and honored, along with Coach at this event. Without Scotty's efforts none of this would have happened.
Did you know that while at Adams State College, Coach's teams won 18 national championships and his runners earned an astonishing 350 All-American honors? Read the "
Coach Joe Vigil" page on our website to find out how many times he coached in international competitions and how many Halls of Fame have inducted him into their roles...and perhaps you might be tempted to see a video of the whole event produced by Ken Sanchez, which may be still available at www.MaestroCinema.Net. Scotty has collected some impressive testimonials from some pretty famous people who had nice things to say to our Coach Vigil. Read on below...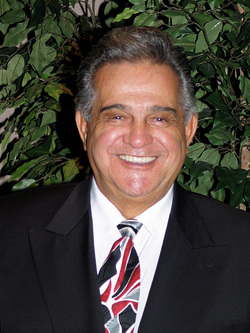 ........"the documentary film produced by Ken Sanchez and Dave Hammer of Maestro Cinema captured the distinction of legendary Coach Joe Vigil's exemplary achievements in education and distance running. The inspirational/motivational message from Coach Vigil, colleagues and the "Spirit of the Marathon" movie is to bring out the best when the best is expected. The powerful forces of positive attitudes show the way for others to follow."
David "Scotty" Garcia
ASC '64 & '66
Chairman Tribute to Coach Joe Vigil
Tributes to Coach Joe Vigil, the documentary film and producers
......."a man's lasting currency for his lifetime does not rest on the things he acquires but resides within the lives he inspires to be the best one can be in respect to all aspects of life. This documentary is a heartfelt tribute representing the countless numbers of those who have and continue to be influenced by the man many of us respectfully referred to as "Coach." Dr. Joe Vigil is a true icon in our sport of track and field and we're all better because of him."
Gary Slayton
Vice President
ASICS America
......."this fine film produced by Ken Sanchez and Dave Hammer documents the greatness of Dr. Joe Vigil. Greatness can grow in an individual born in a small town, nurtured at a small college and then become evident as realized in the performances of athletes in global success. This film is an inspiration for every kid growing up in rural or urban America---they can be as great as they can dream as did Coach Vigil."
Dr. Dave Svaldi-President
Adams State College
......."among his many accomplishments, Coach Joe Vigil has been named as the U.S. Olympic Team Coach twice in his career......SEOUL 1988 and BEIJING 2008. To be selected by your peers as the Olympic Team Coach is regarded as the highest achievement in the coaching profession...and Coach Vigil has done it twice. The Tribute to Coach Vigil Documentary Film demonstrates his willingness to teach and share knowledge for the purpose of helping others...especially those less fortunate...to become better athletes and, ultimately, respected leaders
within their nations."
Dr. Randy Wilber
Senior Sport Physiologist
U.S. Olympic Committee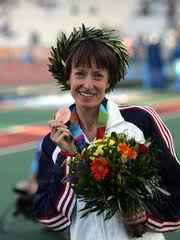 ......."the Coach Joe Vigil Documentary Film captures the essence of a legendary coach who continues on his quest to motivate and inspire everyone and anyone who brushes shoulders with him. He has drawn a passion and desire out of many and this documentary captures a few who pay tribute to him. The luckiest ones have learned from him and lucky still are those who learn similarly from Coach Vigil's students."
Deena Kastor
Marathon Bronze Medalist
2004 Athens Olympic Games
........"producers Ken Sanchez and Dave Hammer did a great, candid job in capturing the essence of Coach Joe I. Vigil's personal VIGILOSOPHY." His personal, humble "ripple effect" as an educator, coach and human being has inspired all walks of life, not just locally, but transcended onto the global arena."
Pablo Vigil-All American
Adams State College Hall of Fame
Colorado Running Hall of Fame
......."Coach Vigil used that tireless bloodhound nose to become the greatest distance running mind America has ever seen. Vigil guided Pat Porter to eight U.S.A. Cross Country Titles (twice as many as Olympic marathon gold medalist, Frank Shorter, four times as many as silver medalist Meb Keflezighi), and was named National College Coach of the Year a record fourteen times."
Christopher McDougall, Author
Born to Run
........"anyone who finds inspiration in the power of the human spirit, the willingness to face adversity and overcome it, will enjoy this film, which celebrates the life and career of a man whose positive influence is felt worldwide. Coach Vigil's message of compassion and commitment is ingrained in every athlete he has ever coached, and over the past 50 years, they in turn have shared this powerful force with hundreds of thousands of athletes across the continent."
Pat Melgares
Kansas State University
........"the Maestro Cinema Documentary DVD is an incredible tribute to a wonderful man. My compliments go to David "Scotty" Garcia, the mastermind who brought this dedication to a fitting conclusion... recognition of Dr. Joe I. Vigil. Kudos to Ken Sanchez and Dave Hammer for theproduction of an outstanding DVD which I will always treasure. You captured the event in a professional manner. Thank you."

Dr. Ron Maestas-Professor
New Mexico Highlands University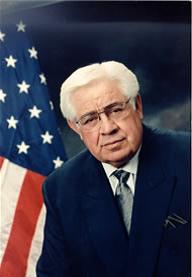 ........" I have known Joe all my life and that's a long time! His commitment to excellence does not surprise those of us who have known him all these years. I believe that Coach Vigil was inspired by two factors. One, his mother Melinda, a widowed parent, exemplified what strenuous effort and discipline could create. Two, his commitment to his community, especially those less fortunate. He also derived his depth and sensitivity with pride of what he was and where he came from. The Maestro Cinema documentary perpetuates his legend as an accomplished mentor and a profound positive example for all of us."

Edward L. Romero
Former U.S. Ambassador to Spain
......." the Sanchez/Hammer Tribute to the legendary Coach Joe Vigil Film is dedicated to distance runners looking for inspiration and motivation. The film is a must see for anyone thinking about running and wondering why thousands of athletes world-wide spend many months in training. The film celebrates the legacy of a great coach and heroes in the sport of running who have trained smart, run strong and dreamed big."
Jon Dunham-Producer
Academy Award Winning Movie
Spirit of the Marathon
Note: Spirit of the Marathon was the collaborative effort of three-time Academy Award winner Mark Harris, Telly Award winner and director/marathoner Jon Dunham and producer/marathoner Gwendolen Twist.
........"the ultimate in competition is not for me to compete against you or you against me but for each of us to reach within the depths of our capabilities and compete against ourselves to the greatest extent possible. When you do this, you realize it the journey not the destination where our empowerment comes from. And it's the daily decisions we make in life not just the talent we possess that choreographs our destiny. Dr. Joe Vigil empowers his athletes with these virtues and values as he educates them in getting the most out of their talents."
Billy Mills
1964 Tokyo Olympic Games
10 K Gold Medalist
......."Hi, David. Many thanks for being in touch and for your kind words on Marathon Boy. Always great to receive feedback! If you could very kindly send the DVD about Coach Joe Vigil to our UK office and I'll ensure Budhia receives it. That would be great."
Gemma Atwal Filmaker/Producer
Marathon Boy
......."the Maestro Cinema Tribute to Coach Joe Vigil Documentary is a "must see" DVD."
Harrier Cross Country Magazine
Note: We had three responses to the "Were you there" question, from:
Tom Higel, who really was "there" during the Colorado Springs fire, and who also has sobering reflections on the Aurora shooting. He entered his comments on the Message Forum.
Marge Curtis Asay, who really could have been "there" during the fire -- but she and Chuck were in Alabama to welcome their new grandchild into the family. Marge's account, which is below, draws upon son Paul's experiences (he remained in Springs during the fire) and his comments on the Aurora shooting, published in the Washington Post.
The Message Forum also has recent entries from other classmates about the fires, shooting, and recent updates. Check them out while you are reading Carolyn's and Tom's entries.
Click here for Firings -- a Drama in Two Acts, by Tom Higel

~~~~~~~~~~


From Marge:

The Waldo Canyon Fire
As most of you know, Chuck and I live in Colorado Springs, having moved here nearly 35 years ago. There's no place we would rather live: beautiful scenery, great place to raise kids, and no mosquitoes! But we weren't here on June 26, the day the Waldo Canyon firestorm swept through the Mountain Shadows neighborhood and destroyed 346 homes; we were out of town, helping our daughter and son-in-law after the birth of their first baby. That evening we got a call from our son Paul, saying that the fire had "blown up" that afternoon and they were afraid their house was probably destroyed. This is the photo they took before they evacuated – their house is the blue one.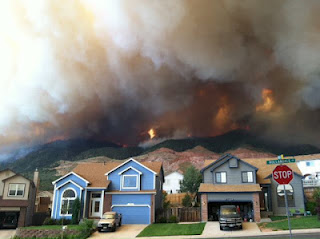 Paul and his family live in Mountain Shadows and by the time he called us, they had all moved over to our house, for the second time that week. About three days later they learned that their home was still standing, and later that it had virtually no damage at all. A week ago we walked with them up behind their house to see how close the fire came. It was way too close -- only took us about five minutes to get there! We're so thankful to the firemen, who worked around the clock in horrendous conditions – the temperature was 101º that day, there had been no significant rain or snow for months, and there were 65mph winds. The perfect storm. . . . Sadly, many other families weren't as fortunate as ours. Our grandchildren both went to school in Mountain
Shadows and each have a friend whose family's home was totally destroyed.




The Tragedy in Aurora
Paul is an associate editor at PluggedIn.com, writing "movie reviews that help people understand popular cultural trends and how they intersect with spiritual issues." When he was three or four, he discovered Saturday morning cartoons. He says:
I loved 'em all, from Hong Kong Phooey to Speed Buggy to Captain Caveman and the Teen Angels. But nothing could compare to the excellent awsomeness of Super Friends. To my five-year old self, Super Friends was the pinnacle of cartoon quality—Citizen Kane with Fruit Loops commercials. . . .
Fast forward to 2012. . . and Paul's first book, God on the Streets of Gotham, was published a few weeks ago, timed to coincide with the release of the blockbuster movie The Dark Knight Rises. He writes on his website:
OK, so I've been waiting for Christopher Nolan's third Batman movie since, oh, August 2008. But this week it finally comes to the big screen, and we can all see just how The Dark Knight Rises will polish off this powerful, resonant and geekishly hip trilogy.
Unfortunately, now we all know of the events that totally overshadowed the premiere last Saturday night. Paul had seen the movie in Denver a day earlier and wrote his review for the Plugged In site. After the tragic shootings, he wrote an article for the Plugged In blog, and some for the Washington Post:
. . . It seems hard to believe any good can come of any of this. And frankly, when the tragedy's still so fresh, so painful, to suggest such a thing feels unseemly. Nothing can minimize what the world lost on July 20. Nothing can make up for it or make it better.
But that doesn't mean that the cataclysm needs to be devoid of meaning. Good can come of it. Hope can rise. Our stories tell us so.

Were We There?
Even though Chuck and I weren't even in town for the Waldo Canyon fire, and don't know anyone who attended the midnight movie in Aurora, these events have an impact on all of us. Many of my friends now have their family photos and important documents gathered together, ready to grab at a moment's notice; another one is pondering the feasibility of a concealed-carry permit. We all feel a little more vulnerable.
Unfortunately there have been too many of these events in Colorado in recent years, but nearly always along with the crisis, come countless stories of bravery, heroism, people looking out for those around them. Technically speaking, we weren't there, either during the fire or at the theater, but in another sense, we all were there.

The "Very Model of a Modern Major General" Responds...
[Note: Charles Knoop's blog entry in blue ink below has inspired the "Very model of a Modern Major General" – from Pirates of Penzance – to rise up and respond with his own memories from our high school daze. The first paragraph was in response to Ann Garretson Marshall's email message on posting the Knoop blog entry. Her response to Chuck Asay's first paragraph was "Yech!" -- and she apologizes for bringing up the kissing fish in her email! At the same time, she recognizes she brought that one on herself. Just desserts...]
But onward with Chuck's response:
Reflections
by

Chuck Asay
Ann. All this time when we were dating, I thought we were kissing. I didn't know you were trying to clean my teeth. Ha! A little humor there.



From Los Alamos to the phone in my pocket…
Charles, you did indeed bring back memories. I remember the trip to Los Alamos. I don't remember learning anything, but I remember all the bulbs, fuses and wires in that first computer we saw there. I go back to that memory when I think about how all those bells and whistles were miniaturized and put on small computer chip we carry around in cell phones nowadays. Thank heavens for all those scientists and engineers who figured this all out.
On making silk purses from sow's ears:
Another tribute to Russ Hillock

On the Mikado and Pirates memories, Marge gave me a great Christmas present this year. It was a DVD called "Topsy-Turvy" from Universal studios, the Criterion Collection. It's a movie about the brooding relationship between Gilbert and Sullivan when they were making the Mikado in London, starring Jim Broadbent and Allan Corduner. There is lots of music from the opera and great historic detail in the film.

The other film is called "The Pirates of Penzance" starring Kevin Kline, Angela Lansbury and Linda Ronstadt. If you go to

www.UniversalSudiosHomeEntertainment.com

, you might find it. It's pretty old now, but a great movie and well worth seeing.

I keep thinking how we could've done much better plays back in the 60's but hey, we were kids then and not acquainted with operetta. I'm so thankful the high school saw it fit to hire Russ Hillock to bring it to us.
Regrets and words of reconciliation…
Charles, I remember talking to Chuck Drabek a few years after graduation. He said he had seen you recently and you were huge now. We were concerned you might come back and beat us up for all the abuse we put you through.

After I saw you at the reunions thereafter, I realized you were one of the nicest, most interesting classmates of the class of '60. We have come to the place where we share the same master and everything is groovy. Your poem makes perfect sense to me. What a privilege to know you.
I have a couple of questions:

1. How did all that abuse you experienced about your size prepare you for your future position in dealing with those "hard" cases you faced at the USDA?

2. Did you have a teacher at Mt. Pleasant named Peggy Copeland? She's my aunt and is now living in a nursing home in Colorado Springs. Marge and I see her about once a week and we can say "Hi" to her if you want us to.

Thanks for the great blog and memories.
Blessings,
Chuck Asay
AKA Charles P. Ivan Asay -- "The Claw"
From Alamosa to Los Alamos, my Life from Dairy Farm to Nuclear Lab
By Charles Knoop
The following is the Readers Digest version of my memories and highlights from my years at Alamosa High School, and beyond:
Pleasant time on the Mt. Pleasant farm…
From the time I was born, my father and mother operated a Registered Holstein Dairy Farm 6 miles west of Alamosa on Hwy 160 and 1 mile North on Rd 104. They supplied milk to Alamosa Milk Company in Alamosa, Colo. And our dairy sold registered dairy stock to other dairy farmers around the West. This community was called Mt. Pleasant district, and I attended the Mt. Pleasant School from 1st through 6th grade. Some of my graduating classmates from AHS also attended the Mt. Pleasant School with me: Tommy Higel, Virgina Higel and Eileen Chadwell, to name a few.
I started 7th grade at the Junior High school and then we went to Alamosa High School – where the Safeway store is now operating. I was real short and small in those days – and I liked to get into verbal fights in Junior high school. I remember the bigger kids were teasing about being so puny and small so I tried to fight back and defend myself. I remember Terry Gibbs coming to my rescue and he befriended me. We are still friends (along with Tommy Higel as a close friend of mine) to this day. Eventually, I grew to be 5ft 11 inches tall and I weigh approx. 195 lbs.
My first (almost forgotten) visit to Los Alamos
I tried to play football, but I was too small, so I wrestled 95-105 lb. weight and went on several trips. I especially remember going to Leadville, where our team had a wrestling match. I remember that Leadville was an old mining town. It was not a very clean town, and the kids were big and tough wrestlers. I lost my wrestling match.
Tommy recently reminded me of a science trip to Los Alamos, NM to see the science museum. When we traveled to Los Alamos, NM, I had no clue that I would ever live in NM, let alone Los Alamos. Moving to Los Alamos, NM and marrying a lady from Los Alamos was not even in my thinking at the time. I wonder, does anyone else remember the trip to Los Alamos, NM?
I also remember trying out for some of the plays, but I just got minor roles in the plays, for example in "The Pirates of Penzance." My favorites were the various musicals. I also ran the mile in track and always tried to complete the race.
Finding my niche at the USDA
After finishing college with a degree in Dairy Science at Colorado State University in 1965, I planned to go into partnership on the dairy farm, but the funds from the dairy and farming were too sparse to support three families – my parents, my brother, my single cousin, and me. Luckily, I had the opportunity to work for USDA Farmers Home Administration in Monte Vista. Then the agency transferred me first to Wray, Colorado, and later to Burlington, Co. It was too flat and too much wind in eastern Colorado, so when I had the opportunity to take a County Supervisor's job with USDA FmHA in Española, NM in 1977, I grabbed it.
The 19-year "happily-ever-after"
Eventually, I went to some Christian meetings at Victoria Winton's home in Los Alamos in 1981 and 1982. I became friends with Victoria for 2+ years and then I got brave and asked her to be my wife. She said YES (on the condition we would live in her home and property on Barranca Mesa in Los Alamos, NM). So, on August 20, 1983 we united in marriage and we had a "GLORIOUS MARRIAGE". There was no USDA office at Los Alamos (only horses and scientists), so from August 20, 1983 to 2004 I lived in Los Alamos and commuted to Española, where I continued to work.
In the years I worked for the USDA, I processed loans to farmers and ranchers and home loans to very low and low income families to help them become first time home owners. I also worked in collections of the loans. I had the opportunity to go to workshop seminars in St. Louis, Mo. on "How to deal with difficult people" (mostly learning about the four major personality traits). My best experience with them was working with various ethnic individual families in a tri-cultural area and being in charge of a field office of four employees, both the financing and collections. I retired from USDA in March of 2004 to be a caregiver for my wife, Victoria.
She had several complications and reactions to strong antibiotics, and on Nov. 2, 2011, she passed on to be with her LORD and Saviour on November 2, 2011.
She left behind her possessions and home with an acre to me. She has five grown children and spouses, 15 grandchildren and their 10 spouses and 40 great grandchildren. So I am on the road; visiting some of the grown children, grandchildren and their children for the next two weeks starting June 4, 2012. I hope you all have a glorious summer and I hope to see some you in Alamosa around the 6th or 7th of July!
In closing, I would like to share a poem from my May 30 Daily Affirmations that means a lot to me. I hope others of our classmates who have lost a soul mate will also find as much comfort in it as I did:
Death is nothing at all,
I have only slipped into the next room
I am I and you are you
whatever we were to each other, that we are still.
Call me by my old familiar name,
Speak to me in the easy way which you always used; put no difference in your tone,
Wear no forced air of solemnity or sorrow
Laugh as we always laughed at the little jokes we enjoyed together.
Play, smile, think of me, and pray for me.
Let my name be ever the household world that it always was,
let it be spoken without effect, without the trace of shadow on it.
Life means all that it ever meant.
It is the same as it ever was, there is unbroken continuity.
Why should I be out of mind because I am out of sight?
I am waiting for you, for an interval, somewhere very near,
Just around the corner.
All is well.
Charles Knoop
May 31, 2012
The Moose Returns, again
by Donald Crawford
Donald Crawford has gotten the urge to remember his high school days. Frank's write-up has me up at 4:30 AM because I can't sleep thinking about the ole high school days. It is now mid-March 2012 and the gauntlet has been passed to me by Frank Newton.
I have read and re-read the write-ups offered by our journalistic friends Ann and Olivia and there is no way I can match them in wisdom or sheer number of words but their writings have encouraged me to start writing this chapter of the Blog. I have also read Larry Cox's, Tom Higel's and Frank Newton's contributions and all of these ramblings seemingly leave few stones unturned. I hope all of you have enjoyed reading these other muses as much as I have.
Who can remember everyone in grade school??
It seems to me that my memories of high school will be different than many of yours, but, then again, maybe not. I will start by rambling through the many thoughts and maybe somewhere along the line some semblance of order will take over. We, Jana and I, were talking with some friends the other day about high school classmates and I commented that out of 99 students in our graduating class there may be as many as 50 that were also in 1st grade at Central Elementary. I won't remember them all but some that I do remember are: Rosemary DeHerrera, her father was a janitor at Central and used to let me into the furnace room on those cold mornings we sometimes had; Margie Curtis, my first date- I think we met at the movies and paid our own way in- don't remember about popcorn; David Bailey, we spent lots of time together including playing baseball in the field next to his home; Tom Ormond, he lived out on the co-op road so I don't recall how we got together or what we did-sorry Tom; Wayne Jarrell, we were in first grade together and friends all through high school; Gabby Martinez was also in my first grade class along with Jackie Johnson. Another first grader that was not in my class was one of my favorite cousins, Diane Wagner- we, of course, have way more memories than can be shared here. There were two first grade classes at Central, if I remember correctly.
Below is a photo of my First Grade Class- I'm the cute one on the front row with his head cocked to one side! Do you recognize everyone there? I don't. But this is what memories are made of and as we get to our advanced ages some of these memories start to fade.
Tragedy strikes…followed by disaster
The summer I turned 10 my family was in an automobile accident that killed three, including my father, and left me in the hospital with two broken legs from the end of July through the middle of November. I missed the beginning of that school year, I think the fourth grade, and had to have a tutor visit me in the hospital to keep up with my class. It seems almost every fall after that year I would miss the first two weeks of school while having corrective surgery on one or the other or both of my legs. During my initial stay in the hospital Diane and her parents, Marce and Dick Wagner, visited daily. I spent most of my summers before high school in the mountains with Marce, Dick and Diane camping. Marce was my mother's sister.
Frank Newton and I met the first time when I came to school in middle school, Evans Jr High. Frank went to Boyd Elementary. I had missed the first days of school with surgery on one of my legs. That was the beginning of a friendship that has lasted to this day and hopefully beyond. Jana & I and Frank & Elaine have been friends and stayed in touch on a regular basis through all of the years. We have many memories from all of those years but those are stories to be told at a different place and time. Some stories might even surprise you.
I was not involved in many of the class extra-curricular activities as I worked at Milk Maid Bakery all through high school and most of college. Many times I was on the outside wishfully looking in, too shy to participate. I spent a couple of years as manager for the basketball team – basically shagged balls and kept statistics during the games. I was able to travel with the team to away games my freshman and sophomore years.
I think it may have been the winter of my sophomore year that Gary, Frank, myself and some others were on Wolf Creek Pass tobogganing. I was riding front position when the toboggan hit a hole in the snow and my feet came out of the stirrups and dug into the snow catapulting the toboggan over my head and shattering my left knee cap in the process. I have been told by Frank that when he and Gary went to tell my mom I was in the hospital that it was one of the most difficult things they ever had to do.
Let's talk poker, being cool, and music
I remember we had a poker group that played poker almost every Friday night. Some times at my home, my mother liked that, and other nights at Wayne Jarrell's home, his dad liked to play when we were there. This group included Frank Newton, Gary Dabney, Wayne Jarrell, Larry Cox, Dave Dawson and yours truly on a pretty regular basis. There may have been some others who played occasionally. I think our parents all liked that we played poker as they had a pretty good idea where we were and that we were not getting in trouble or out drinking.
I remember that some of the boys, probably not yet men, decided that we did not appreciate the girls, all of them ladies, that chose to wear jeans on Fridays. On those days we chose to wear suit and tie; shirts, pants and shoes, also. Can't comment on socks and underwear, they were optional, lol. I do not remember whether this was a onetime occurrence or that it lasted for multiple Friday jean days.
We had a music group for a short period. The group included Tom Higel at piano; Robin McGee, class of 59, at the stand-up acoustical bass; Rueben Gillespie, class of 59, bass singer; JC Roberts, class of 61, tenor; Frank Newton, tenor; Don Crawford, tenor and Barry Turner. We sang Elvis songs along with Kingston Trio and other popular singers of the time. We did not do any original stuff at all. We did perform at a few functions and even had one gig over in San Luis. We got chased out of town, not for bad singing but for showing an interest in the local girls. I was driving my mother's car, a 1952 straight six Ford coupe and blew up the engine somewhere between Alamosa and Blanca. I am not sure how I explained this to Mom. I have to say she loved me, as I got away with a lot of things.
The good news: we didn't get thrown in jail…
However, there was the time that some young boys from Wyoming drove by the high school one noon hour and said some things to the girls that we took offence to. Wayne Stribling, Gary Dabney, Wayne Jarrell, Frank Newton, Don Crawford, and probably a few others jumped in cars and caught up with these Wyoming studs west of Alamosa and managed to scare them and damage their car. We were all called in by sheriff, Ben Phillips, the next day. My mother told me then that if I ended up in jail I was on my own. I do not know for sure if she really meant that or not—I never tested her. I'm smarter than you think. We did have to pay for damages to the Wyoming car.
Some of the things I remember around town are salty dogs at Murray Drug Store and Nazarro's for pizza, I remember the twins, also. They were pretty hot chicks, but not in our class (actually or figuratively). The class of 1960 is in a class of its own. Broasted chicken and potatoes at the drive inn owned by Ray and Helen Heck. Larry Cox married their daughter, Sharon (first marriage). The seeming endless trips from one end of town to the other—it won't be as much fun now with east bound traffic on Sixth Street and west bound traffic on Main street. The temperature would drop 5 degrees sometimes while waiting for the stop light to change at State and Main. But it was a dry cold.
I am sure that as some of you read through this you will remember some of the things differently and with different people than I have. I guess that is really what is important about memories, not how accurate, but how they are, memories. So I know that when I pass this moose on to Charles Knoop that more memories will be added.
~~~~~~~~
"Moosings"
From Frank Newton
Well, the wandering Moose has been hustled back in my direction and I must give him the attention he deserves. I shooed him away a couple months ago when I was busy preparing for holiday festivities and didn't have much time to play or converse. Let me explain.
When I retired in '99 I thought I would find time to relax, go fishing more often, and maybe travel a little. Well, not so fast. I left the demands of the daily classroom, but other people and projects beckoned. First came the house (major addition project I had started some years before and continue to work on today. We live in it and, it's wonderful, but such things are never done). Then I began to respond to requests to substitute teach for friends (I live about three minutes from the school where I taught). I knew the kids, the assignments were easy (no lesson plans, no grading), I still enjoyed teaching and besides, supplemental income to a teachers retirement pay ain't a bad thing. I continue to teach part time, on request.
Then came the grandchildren, bless their beautiful little hearts. Son Geoffrey works for Flesher-Hinton Music Co. and daughter-in-law Melanie is also a teacher. When Jeremy arrived in 2002, they lived right across the street, wonderful arrangement. Grandma daycare was a natural and a blessing. Then they moved…down the street and around the corner. Now they're a block away. Anastasia arrived in 2005 and Isabella in 2007. Grandma daycare continues. You know how the school calendar dominates your life when you are a teacher and when you have children. I've continued substitute teaching because it fits. Next year they will all be in school full time. That might change our schedule a bit.
Arts + Sciences + Humanities = Frank's cup of tea, still!
Retirement was pretty cool; not much traveling, but much of my time was my own. Then I got a call from a friend, currently on City Council. She "invited" me to join a committee to organize, at the City's behest, an arts and humanities council. I'd been out of the arts business for quite a few years and did miss it a bit. My friend, Councilwoman Beckler twisted my arm, Elaine said, "Yea, you should. They need your 'expertise'. You'll enjoy it." My life was changed. After six months of organizing and writing a Master Plan, the committee became a corporate board of directors of the Thornton Arts, Sciences and Humanities Council. My big mouth got me in deeper. I was unanimously elected President and served in that capacity for four years. I continue to serve on that board.
I was hooked. Public art projects are on-going; I've organized a Thornton Community Band, now in its fourth year and 85 to 90 musicians strong. I serve on its board of directors and assist wherever I can to support performances. I've organized the Thornton Community Chorus, which I direct, and I serve on that board of directors. Thus my busyness, in December in particular. Winterfest, a three-day festival in mid-December, is a big deal for the City of Thornton and TASHCO. There is a TCB concert on Saturday evening, TCC concert on Sunday evening, storytelling and music ensembles in the TASHCO tent and puppet theatre next door throughout the festival.
Photo of Communis, part of the Thornton public art below: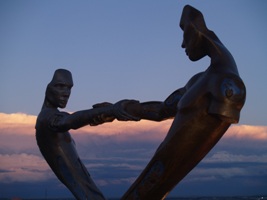 Then there's Christmas. For about 25 years now, Elaine and I have had an open-house on Christmas Eve. We invite just about everyone we know and feed whoever shows up. Tamales, frijoles, posole, chile con queso, biscochitos, pastelitos and miscellaneous other goodies, which some of our guests bring to share, grace our tables; and our life is blessed. Christmas day family dinner follows almost as quickly as we can clear the dishes from the open house. Then, for the past two years, my TCC concert has followed on the afternoon of the day after Christmas. No surprise that our anniversary, on the 28th, and New Year's Eve are usually quiet celebrations at our house.
The Rudolf Bing of the San Luis Valley and his operatic troupe
All of this explanation takes me back to other Christmases and winters in Alamosa, especially those in my Jr. and Sr. years when choir was such a big part of my life. The concerts, of course, were great! Russ Hillock was too young and brash to think that there was anything that he, and we, couldn't do if we put our minds to it. Now I look back and realize that he had us performing so far beyond our own or anyone else's expectations. We didn't know any better; we just did it. But more important and memorable for me was the "everything else" that came with it. I remember the caroling parties when Russ made a huge pot of chili and my mom fried a mountain of sopapillas which we devoured after caroling various places around town. I remember cast parties and birthday parties and ice-skating parties at the Chappell's.
Cast parties; musicals; plays; wow! We worked so hard; and with such fantastically rewarding results. At least it was for me. The Pirates of Penzance! I fell in love with Carolyn Cook and she broke my heart…. It mended, but in my heart you've always been one of my favorite people. We had such fun on stage! The love duets, the fiery trio with Linda and John, Berl Pirtle's comic constable and Chuck's marvelous Major General. What an enthusiastic "rollicking band of Pirates"; Dave with sword and pistol, Mona Motz with her peg-leg and everyone hamming it up. And never was there a finer troupe of "little lasses" (sing that carefully lest ye be misunderstood) cheering their heroes on to glory in gory battle. As a director I've come to appreciate more and more the talent and dedication of an accompanist like Phyllis Schneider. Wow! She was really good. One memorable moment for me was when Linda miscued and stomped off stage after a fiery duet forgetting that she still had the next line. Phyllis played the interlude three times while I struggled to maintain composure until Linda recovered and reentered to pick up where she had left off.
The next year it was another Gilbert and Sullivan operetta, The Mikado, with many of the same people in leading roles. We'd become quite a Troupe. I'd always had fun singing before, imitating Elvis, Pat Boone, The Platters, etc., but the experience of portraying romantic, fantasy characters on stage lit me up. Thoughts of a career in math/science/engineering faded and the performing arts beckoned. I loved performing, but I also loved the designing and building and painting; the art of theatrical production. We had a huge stage, and that set for The Mikado was huge! It inspired someone at Adams State to refer to Mr. Hillock as the Rudolph Bing (then producer at the Metropolitan Opera) of the San Luis Valley.
And there were plays…, and another crazy young teacher to work with; Rosemary Mathes. I'm afraid some of us (guilty!) did not always treat her well. Sometimes I marvel at how self-absorbed and cruel teenagers can be. Was I ever like that? Yup. I'm so grateful to those who helped me to learn to be a better person. I think I've learned…some. My Three Angels was a great experience. Thank you, Miss M., for the opportunity. I had such a good time with Chuck and Robin McGee in that show.
…And the blessings of Life BC (before cellphones)
Although music and acting were important and occupied a great deal of my time and attention, they weren't everything. There was time for other things, some important…; some just mischief. I don't remember Alamosa having a lot going on to keep us busy and out of mischief. We had to create our own diversions. There were ballgames, float-building and such, but that wasn't always enough. I was restless, and I guess I wasn't the only one. I'd walk across town to knock on Don Crawford's door to ask his mom, "Is Don home?" I could have used the phone, but I didn't really like to use the phone. It seemed kinda foreign and impersonal to me. I'd rather walk across town and talk to a real live person I could look in the eye and trade smiles with. I guess I'm still like that in some ways. Cell phones and e-mail and such have become something of a necessity in today's society, but I still prefer live conversation whenever I can get it. I'll text, call or e-mail people I work with in order to take care of business, but I'd rather meet for lunch or a cup of coffee and talk. I know it's not efficient, but for me, it's more enjoyable. I never was much of a letter writer and I'll go long periods of time without a call or e-mail to even the best of friends like Don and Jana or Tom and Sandy or Russ, who lives across town, but I savor the time spent in live conversation and doing things together…or, sometimes just occupying adjacent space and enjoying the quiet company. But I digress….
Still workin' on impressing the chicks…
Where was I? Oh, yes. "Is Don home?" "What 'r ya up to? Seen Gary?" We'd pool our nickels to put gas in Gary's old Kaiser to drag the gut, organize excursions to "haunted houses" or the "penetente cemetery" to tell spooky stories. It was all part of the universal and ever-so-important scheme to impress chicks. That's what being a teenage boy is really about…, and I'm not sure we ever totally outgrow that. We just work at being less obvious and more suave.
Parties and dancing and singing were big in my book. I wasn't particularly athletic, so that was out. I was pretty good academically, but that tended to impress teachers, not chicks so much. But I loved to dance… fast dances, jitterbug. Slow dances were a little more difficult…not the steps, but finding a partner. So many of the girls were taller than me and got a bit nervous about close dancing. I remember being invited to Barbara Fruit's house on some Sunday afternoons when we rolled back the rug and her mom made sloppy joes and we danced up a storm. I remember gathering cars at the edge of the tennis courts at school, just east of the parking lot, to light up the space because we had nowhere to go to dance. We cranked up the radios and danced.
Who could forget the Teen Canteen??
Do you remember the "teen canteen" we worked so hard on when we were juniors? State Street, north of Main, in the Elk's building. There was dancing, ping pong, refreshments and lots of noise. They gave us the space and someone gave us paint and other supplies and we created a cool place to be, for a while anyway. I don't remember how long it lasted, but it bit the dust. I guess it also became too much of a focal point for making trouble, too.
Remember swim parties at Splashland? More opportunities to try to impress the chicks and crash and burn in the effort. Roxie Meyers taught me how to approach the board correctly so I could learn to dive pretty well. Up 'til then, all I knew to do was hit the end of the board at a dead run from the back of the board and go flying helter-skelter as far as I could and land in a heap of flailing arms and legs. It was head first, so we called that diving. The guys weren't the only ones to suffer their embarrassments. Kathy K. had to be told that she had split the butt of her swimsuit, someone else (I shan't reveal who) had a strategic bit of padding escape the confines of her upper swimsuit and float away to be discovered by some uncouth youth who shouted, "Who lost a falsie?"
There were many other memorable parties and there are stories to be told the next time we get together. Tales of mistletoe, Baloney-plus-everything sandwiches, night time games of ditchum and toboggan disasters. But one of the funniest parties was the one Mr. Hawkins threw for Don Crawford and me in an effort to embarrass us in front of our friends. A couple of weeks before the end of our senior year, Mr. Ness, the superintendent, caught Don and me having our morning coffee at the Campus Café during our drafting class, which we did frequently. The teacher knew where we were because Don and I were always well ahead of our assignments in that class and he let us do that. We frequently brought him coffee, and took orders for snacks for other students sometimes. But we didn't rat him out. We simply said we had taken liberty with our pass to the library. Ness sent us back to class and reported us to Hawkins for punishment. Hawkins called us in shortly before school was out for the day and gave us buckets, brushes and soap with which to scrub the front steps of the school just as everyone was dismissed for the day. "That'll teach 'em!" Not! We took it in good humor, and so did everyone else. Everyone had a good laugh with us, not at us, right under Hawkins's window. Big disappointment I'm sure.
…And the ghostly skeleton comes back...wearing a cowboy hat
Gary, Don, Dave Tom, Larry and I were pretty close and did lots of stuff together. We had a broader circle of friends, but this was the group that took, I think three summer trips together to Mesa Verde. I think Wayne Jarrell may have been with us on at least one of those trips. Those were fun trips. I think the second trip up the time we took the skeleton. Tom's right. Whatever else it was, it was seen as another opportunity to try to impress the chicks. We traveled crammed into Gary's dad's pickup with a home-made plywood camper shell on the back; three in the front, three in the back with all the camping gear and a box of bones. As we're tooling down the road we decide that other motorists who come up behind us, or whom we pass, might be shocked, surprised or, if they are chicks, duly impressed if we were to be seen carrying on what might appear to be an intellectual discussion regarding the skull and various bones we were handling. We didn't need to say anything profound; who could hear us? We just needed to look smart and sophisticated…riding in the back of an old red pickup with a home-made plywood camper shell. Well, you can imagine how well that worked. We did get some weird looks and cold stares but no invitations to guest-lecture at the next truck stop or campsite.
When we set up camp at Mesa Verde we were blessed to be located next to a church youth group from somewhere. After setting up camp with plenty of food and beer and attending a ranger's campfire lecture, we settled in for the evening's discussion. The preacher's son, Dave; the agnostic, Tom; the baker; the singer; the mechanic and the soda jerk/short-order cook set forth on a discussion of philosophy and religion fueled by Coors and presided over by a hollowed-eyed, ancient gentleman sitting atop our supply box, wearing my cowboy hat and illuminated by a Coleman lantern. Yes, none other than that rugged old Indian from the dry lakes of the San Luis Valley. Impressive, yes? Impressive, no. Did not impress the chicks. At least I don't think so. All we heard from our neighbors was a request to keep our voices down. Evening services and early to bed were being disturbed. Struck out again.
But we did have great fun. Those two weeks of male bonding were priceless. We left the "Bones" with the Park archeologists and picked them up when we returned the next summer. Their report couldn't tell us much because the bones were removed from their burial place and there were no supporting artifacts associated with them. So much for scientific inquiry. Durango, Shiprock, Aztec and Pagosa Springs afforded opportunity for other adventures, but whatever it took to impress the chicks, we didn't find it.
Well, once I started I kept going. There's much I remember like it was yesterday and ten times as much that is lost in a fog. I know we shared a lot and yet, what impressed us and what we remember can be so different. I'm sending the Moose on his way for now. I think a visit to Albuquerque will do him good. I'm sure Don has been anticipating this visit. I look forward to hearing from others. Shoo, Moose.
Take it away, Don Crawford!
The Wandering Moose. . . from Tom Higel
Sorry to disappoint you folks, this isn't Frank Newton. Seems like the 'ol moose was sent wandering in his direction by Larry Cox, but Frank re-directed him to me (can't remember if the reason was Frank couldn't make bail or if he is inordinately busy in producing two Christmas concerts – suspect it's the latter, but his time ran out on the one phone call he was allowed). So, instead of Frank, it's me, Tom Higel. And as I'm sure Frank would do if he wasn't so tied-up, I wish you all the best for the upcoming Holidays! Oops – one of the upcoming holidays has already passed, so much for Turkey Day. Taking a friend to the emergency room kind of messed it up and delayed this blog, but to continue --
I usually like to start at the beginning, but that is too late now (see above paragraph). Not sure if I should reminisce about A.H.S. days since memories could incriminate otherwise unsuspecting and presumably innocent people, or if I should tell tales about my life since then. I must, however, correct Larry's otherwise enjoyable account – I did not dig up a skeleton in the Dry Lakes, that was semi-accomplished by a pot-hunting uncle, now himself a skeleton. The true account is that Dave Dawson & I pooled our meager resources and bought it from said uncle in hopes of turning it into some ill-defined science project. Little did we foresee the curse it put on our future: Dave went on to teach anatomy & I ended up digging and teaching archaeology. I'm not sure where it is now, possibly residing in some closet with other skeletons from my past. I also need to adjust Larry's memory on another matter – I don't think we took it to Mesa Verde to show the 'authorities' there however noble that might have been; I think we took it as a lure to intrigue young ladies who may have been visiting the park at that time. I (and we then 'parkers') subsequently learned young ladies could care less about skeletons.

I presently abide, with my wife Sandra, in Colorado Springs. I do nothing, she's still working. We did have an enjoyable dinner with Charles Knoop in Espanola in September who graciously was able to visit despite his wife being in the hospital. We were on our way to visit Chaco Canyon which Sandra had never seen. We then went on to Mesa Verde to which I had been before (again see above) and where, incidentally, we both worked early in our married life and, incidentally, which marriage anniversary I forgot this year (major incident that).

More recently, I spent an enjoyable and though-provoking evening listening to Terry Marshall and Chuck Asay discussing their interaction re Terry's book Soda Springs and Chuck's illustrations therein. You're right, Chuck – your first sketches are pure art. Terry makes one think – ouch! Enjoyed chatting with Ann too, but sorry Marge couldn't attend.

Lastly, I didn't have an epiphany on the road to Damascus, but some years ago we were served a lunch on the bus to there from Amman. Imagine stewardesses on a bus, but that's another story. And, speaking of lunch, the moose has found slim pickings here thanks to our yard's resident deer and rabbits, so he's wandering on.
From Larry Cox…
Olivia's phone call couldn't have come at a more opportune time for this endeavor as I had just gotten my laptop back up and running after having suffered the proverbial "crash" this summer while traveling.

Knowing I'll have only this one time to blurt out everything I ever wanted to say I am tempted, like Olivia, to go on and on and Z..z...z....z OK, I get it!
About Dave Dawson...
It's always shocking to lose someone with whom you have a close personal relationship. I had not visited with Dave Dawson since high school but I'm sure his character did not change over the years and I remember him being a real character. I think I was sitting across from him at a penny-anti poker game in 1960 sipping 3.2% beer the last time I was in his company. Gary Dabney, Wayne Jarrell, Frank Newton and Don Crawford were also there as I recall.

Some of us won't see the next reunion so if it's important to you to share a word or two with someone this is a real good time. And, if you're still not sure who God is and/or who you are in His eyes, this would be a good time to take a fresh look at that, too. Procrastination is a terrible disease. I know first hand. I'm going to run for president of the club one of these first days...! Fortunately for me I have a sweet wife who helps me remember to go to my therapy sessions.

Arriving in Alamosa – 1957

Many of you were already friends when I arrived on the scene in Alamosa in the fall of 1957 (yes, that was the middle of the last century) but you opened your arms and welcomed me. I think Chuck Drabek was also a 1957 arrival. I had lived in Oregon where we garnered six credits toward graduation as freshman and many of you told me you had only earned four as a freshman...tsk..tsk..!

I believe I graduated 54 in a class of 108 so those of you above and below should be thankful I was able to help keep the bell curve together. I say that to say I skated a bit (I know you're shocked) and my senior year I left school at noon to go to my job. Does anyone remember the soda fountain at the Rexall Drug Store? Yes, recall I was the soda jerk, stock boy and part time pill counter when the pharmacy was busy. Later the Tip Top Drive In was my afternoon & evening home plus weekends.

Senior Sneak Day
Helen Heck (owner of the Tip Top and later to become my first mother-in-law) catered our Senior Sneak Day down on. . . I believe it was the Conejos River. How many of you avoided a dunk in that very cold water? Mrs. Heck enlisted my mother to accompany her and help with the food much to my chagrin. It was bad enough to have my boss along but my mother, too!
The Poker Club Gang
Graduation trips are very sophisticated these days. Not so in my 1960. Gary Dabney borrowed his parents' brand new Desoto and the poker club gang were off to Mesa Verde. What a rag-tag bunch. We had sleeping bags but no tent and as best as I can recall no food. Tom Higel had dug up a set of fossilized human bones over in the Dry Lakes area and brought them along knowing the folks at Mesa Verde would be thrilled...NOT! Did you ever get them back, Tom? Frank Newton and I were hiking off the beaten trail when I severly sprained an ankle. Thanks again, Frank, for literally dragging me the 100 feet or so back up a very steep canyon. And, speaking of Dry Lakes, how many of you remember hunting arrowheads out there? I never had an eye for them but many did and the hunt was always fruitful.

Off in a Cloud of Dust. . . .

Journalism was perfect for me -- I enjoyed English (Mrs. Davidson was an angel to have put up with me); and, I liked to write (still do, just ask my senators and congressman). Far above those two items I loved going downtown to "sell" advertising in the school newspaper. Do any of you remember that old, dusty, dirty black Plymouth that Mrs. Nuoci drove? Was that out of the 1930's? The column shift lever was broken off making it almost impossible to shift. Clouds of dust puffed up from the cloth upholstery. Speed was never an issue but oh the freedom...!
Life-Long Skills
I digress...I had the freedom to leave the campus and return on my own schedule, which responsibility I took very seriously. Little did I realize that as business manager of The Alamosan I was beginning to hone skills that would carry me through an entire career in insurance. Cold calling, in person, was one of my favorite things to do as I sold business and personal insurance those 41 years. I did one thing better than any business manager predecessor and that was I contracted the merchants for multiple issues (the entire year if I could get their agreement) so I didn't have to go over old ground too often.

Margie, your dad was always one of the best supporters of all things "Alamosa". He did purchase real advertising in The Alamosan, he did loan furniture for the junior class play and he became an insurance client of mine years later when I landed back in town.
By the way, Mrs. Rickey never did let me drive her 1958 Pontiac. That probably was a good decision on her part!
The Junior Class Play

Speaking of the Junior class play, does anyone recall we raised more money for the Prom than had any previous Junior class? It was fun and Miss Mathis did a great job. We also learned how to make stage flats.

The Alamosan

I remember pulling more than one overnighter at the printer who printed The Alamosan. I'm not sure whose fault that was but surely not mine. Only a true, old newspaperman would remember the old molten lead linotype machines. Ted (the printer, last name ?) would never let me touch it but I watched it function under his command and am still amazed. Olivia, Ann and I fussed over and discussed the headlines that should top each story. I was not aware that easily being able to read an article upsidedown and backwards, as you had to do to decide on the headline was only one of the many symptoms of my ADD which didn't even have a name yet.
The Great Pick-Up Heist

I generally got off work at the Tip-Top around 10:30 p.m. This particular evening when I walked around back of the building my old '40 Ford pickup was missing. I suspected a trick of some sort so just walked the mile or so south along the La Jara highway to our home. My folks were still up (unusual) and asked me how I got home since they didn't hear the pickup drive up? I told them I had walked because I thought someone was pulling a practical joke on me and had hidden my pickup.
About that time an Alamosa City Police car pulled up in our drive. It didn't occur to me that I was not inside the City and so why would they be at our home. I went out and was asked if I was missing a pickup? Well, this got me really excited and I said I was and did he know where it was? He said it was reported to have been involved in a hit-and-run accident. Now I was really getting excited. He told me to get in and we would drive around to see if we could find it in town. We drove around for about an hour before he dropped me back at the Tip-Top where lo and behold there sat my pickup. We examined it all over to see if there was any new damage (there were plenty of old dings and dents but nothing new).
Ray and Helen Heck, owners of the Tip-Top could not hold back the laughter any longer and the jig was up. I can't remember who else was there but Gary Dabney, Wayne Jarrell, Don Crawford and Frank Newton may have also been involved. It wasn't April Fool's Day but they definitely had me going for several hours. I later found out my folks were in on it as well as the State Highway Patrol dispatcher who dispatched for both the state and city police. I almost turned tables on them when I walked home ignoring their prank but they decided they could liven things up if a city policeman came to my home to get me re-involved. It worked. I was so shocked at how many people were in on the prank!

The Ace Inn

What about the Ace Inn Restaurant at the east end turn-around of Main Street? I had a summer job for my girlfriend's parents who owned Bill Clark Truckline and their warehouse was across the alley from the Ace. One day I ordered coffee and a piece of pie. Viola Nestor, co-owner with her husband, George was serving me. She cut a fresh pie into six slices, put my piece on a plate and sat it down in front of me at the counter. I made a snide remark about how small the piece of pie was whereupon she bellered in her huge, outside voice, "Mister, this place is for sale and after you buy it you can cut your pie in whatever size you want." I am sure there are a million other Ace Inn stories out there...?

Free Coffee Mondays

Does anyone remember "Free Coffee Monday's" at the Rexall Drug Store? Coffee was a nickle every other day of the week but the long-time tradition was free coffee every Monday. We had people stacked up three deep at the counter waiting their turn. Donuts were a nickle, too, but some would bring their own cookie or pastry from home. I remember there were very few high school students that came into the drug store as that was not the cool place to be. We mostly catered to people who worked in the stores up and down Main Street.

Nazarro's Restaurant was the very first restaurant in which I ate unaccompanied by my parents. As all will recall, eating out was more of a treat in those days and especially so for those of us with more limited funds.

Splashland

Splashland was one of my haunts for a year or so. I took Water Safety Instructor classes and worked as a life guard. I shudder now to think of the responsibility I assumed. God was gracious, however, and I didn't have any trouble while on duty. There are a gob of other stories of people who lost their bathing suits or had them stolen or...your imagination can be your guide. The entire pool was cleaned weekly durng the summer swim season with a six-inch brush and some very strong chemical which would eat your skin right off your hands. I made a buck an hour so I was a happy camper!

The Model U.N.

Hey, Terry, were we sophomores or juniors when we attended the Model United Nations in Boulder? Now, there's a memory I haven't recalled in ages. It was pretty much a blur except for the fire hose/fire extinguisher fight in the dorm that one night. I thought sure the whole bunch of us would be marched off to prison. I can't imagine how much damage was done but the water was running down the stairs to the floors below. I can honestly say I never had my hands on either a hose or an extinguisher but that was only because I didn't get there first. Talk about mob mentality!

There's a Playbook??

Before I go on I need to step backwards and share something that may not be news to anyone else who was on the 1957 football team. I turned out a little late but was welcomed and posted on the roster at, I believe 180 pounds. My memory is a little fuzzy but I don't think I ever weighed that much as a sophomore. The really funny thing was I never got a playbook. I didn't even know one existed. I have often wondered if Coach Vigil even knew. I was so shocked when one of the backs would run right up my backside (cleets and all). I think that Pruitt (first name ?) fellow weighed 300 pounds when he hit the spot where I was supposed to have made a hole! I played at least one play every game that year and none the first half of the season the next year so I quit and got an after school job.

The Teen Canteen

And, then there was the Teen Canteen. I can't recall who else was on the board. Those were scary days. Were any of you guys part of the gang fighting for which we had to hire off duty police to help prevent? I remember Bill Burrows taking a lickin' one night. That taught me to never accept the invitation to "step outside"! I probably faced one or more of you down with the 1940 Ford pickup I drove. Its faded black paint was mostly missing allowing the various shades of primer to show through. Its most prominent feature was the heavy-duty iron front bumper it sported. I remember well a couple of games of "chicken". I wasn't the least worried about damaging it and the egging I suffered one night served only to strip away more of the black paint. In spite of it all I believe the Teen Canteen provided a positive influence for kids looking for a place to dance and hang out.

Anchors Aweigh!

College didn't seem to be in the cards for me. I ordered the catalogs and planned and plotted but money was always an issue in my home and I frankly was saved a lot of grief as I could never have kept up. So, in March of 1960 at the ripe old age of 17 I enlisted in the Navy with a deferred departure date in late September. I kept it a secret from my friends and family. My mother was 90 when I learned how hurt she was by my not telling her and she still hadn't forgiven me. Now, that's a grudge! If any of you have similar feelings, get over it!

Many of you will be shocked to know that I had great difficulty reading; something I taught myself to overcome while in the US Navy. Did I mention 54 out of 108? You'll probably recall we were "college bound" regardless of our aptitudes (was a shop curiculum even an option?). Remember Sputnick put a burr under every saddle for math and science? Nod your head if you agree you'll take every math and science class available!

The Navy thought I should be in communications. Fancy that! There were two reasons: 1) I already knew how to type; 2) I already knew the Morse code. I loved it because we always knew what was going on before even the commanding officer whose office was generally just a couple of doors down the hall. I had a mind like a steel trap -- snap! Today the spring is a little weak so stuff doesn't stay in like it used to but I credit the Navy for showing me I could succeed.

The Navy was very good for me. I rose in the ranks to E-6 in just under five years and it placed me in a position of responsibility which I took very seriously. In spite of my pleading, I never served on board a ship. Go figure! I was stuck in a time warp on Whidby Island, Washington and bored out of my skull so I volunteered for the Antarctic Program. Swish! I was gone in two weeks. I figure I failed all of the psycological testing so that was why they sent me to live for a year with twenty-one other Navy and civilian personnel at the Geographic South Pole. How many people do you know who have done that? Fewer than 100 people had done that before the crew of which I was a part. Yes, it was cold (still is for all you global warmers) and it was 1963 primitive. The elevation is over 9,000 feet and it's all ice and snow all the way to below sea level at the bottom.

My reward for that service was two years in Londonderry, Northern Ireland. Cool and primitive! What was I thinking when I asked for that? All of my Navy time was an adventure I would not change for anything. While I was in the service during the Viet Nam war and while I did volunteer for it, I was not called to go there. I am eternally grateful for those who did and especially for those who paid the ultimate price. I still get teary-eyed when I see the Viet Nam War Memorial and think my name could just have easily been on it.

Adams State

Adams State College was my home of choice for two years after my Navy service. Money was so short in supply that I rarely bought books but rather borrowed them from my professors who loaned them with an understanding nod. Even with the GI Bill financial help and a $1.25 an hour job I was only less rapidly sinking into a financial hole which would only make my life more difficult. So, God, in His infinite wisdom pointed me to a Help Wanted ad in the Courier newspaper that was two weeks old when I read it. I found out much later the position had already been filled but I was such a "salesman" the owner of the San Luis Valley Insurance Agency at the time un-hired that poor fellow and hired me. I'm not sure just how he pulled that off but I am still grateful.

About Gary and Sharlene...

I moved away from Alamosa in 1973. My best friend, Gary Dabney, had moved away earlier. On Gary & Sharlene, I thought about going out to the drive in theater double dating -- the two of them and my girl friend, Judy Nielsen...in the winter...was there a movie on the screen? If we were lucky we could get two of those heaters. If not we had to create our own heat. Gary & Sharlene were constant companions right on through college graduation and subsequent migration to Juneau, Alaska, where they had a romantic notion that everything would be perfect. Sadly it was their un-doing.

I had a great visit with them in their Juneau home where we spent several days with our heads down in the engine compartment of their 30 foot cabin cruiser making repairs so we could spend three days out on the water. Yikes, would I do that today? Not likely. The repairs did not hold up and we wound up limping back into port. We did fish the Juneau Salmon Derby for two days. Gary caught one very small one which we hid away so the game warden would not see it. I believe they had to be 30 inches to be legal. We ate part of it and I brought part of it home on dry ice.

Gary had a connection with the Trinchera Ranch to drive tractor dragging the meadows up in the NE valley. The job required going up Friday evening so you could get up at the crack of dawn for a "ranch-hand" breakfast and off to work. Lunch and dinner were also provided and a place to sleep in the bunkhouse (rodents included). It paid $15 for the two days plus meals -- Wow! I believe Frank Newton and possibly Don Crawford may have gotten in on that a time or two? What were we dragging? Well, they ran cattle and if you broke up the manure and spread it around on the meadow they said the grass grew better. I'm sure they were right!

Ski Hi Stampede
What about the Ski Hi Stampede in Monte Vista. I was a "once you've seen one rodeo, you've seen them all" kind of guy but give me the carnival. Picnicing by the lake near the Soldiers & Sailors Home, winning the Teddy Bears, eating the food.

Hey, Barry, do you remember knocking your front teeth out on your steering wheel when you rear-ended -- was that a bus? Or, what?

Next Moose-on-the-Loose Revealed!

While I have always enjoyed the "people" that made Alamosa, the "place" never drew me back. The 30th reunion has been my only return trip. Yes, Olivia, enjoying English and journalism has become a curse of sorts these years as our culture has changed and much of what we were taught was crude has become common place and accepted today. Of one thing I am certain. God is still on the throne and prayer changes things! God's grace has been sufficient all the way through and I am especially blessed in my marriage, four children between us, and eleven grandchildren. Life is good. Emmanuel!

Frank Newton, the Loose Moose is now all yours. I can hardly wait to read it.
From Olivia:

Hi, All,

Ann "tossed" the Moose to me to write the next blog . . . reminds me of the old round robin letters I used to participate in when I was in junior high or high school. That's a memory! Anyway, I wanted to find someone that would continue passing on the Moose on the Loose and finally settled on someone (you will find out who at the end) who was part of the journalistic team that Ann and I were on. . . if you don't recall, Ann and I were editor-in chief and assistant editor respectively of the Alamosan, and the person I am sending the moose to was the business manager. If you have your senior annual, you can see us pictured together at the top of the page. Also, we were all three in Quill and Scroll, and you can find a picture of me on that next page threatening to stab that guy as he was pulling up my dress. Aha! now you should be curious enough to run to your annual to see who it is! Also, Ann, at the bottom of the Alamosan page it says, "Ann Garretson, editor, won a trip to Detroit by writing an essay on why she wants to be a newpaperwoman." I am curious . . .did you ever go to Detroit? I learned a lot in journalism, and it was one of the things that stayed with me for a long time and sometimes even comes up to haunt me now when I get too wordy in my writing (as in this blog) or too critical of some of the bad journalism I see . . . Ann, _____, and others in our journalism class from back then will know what I mean.
Dave Dawson
I guess by now most classmates will know about David Dawson's passing and be about as shocked as I was. For those of you who saw him at the 50th reunion, you must be most shocked. I was fortunate to have David and Alice visit my husband and me after the reunion, as they were traveling to Iowa to see one of their daughters and family. My husband wanted me to promise that after he died I would go to see David in Scotland; he (Eldon) told David that he was to keep reminding me, which David did do. My plans were to get there sometime. Don Crawford also came this way after the reunion after David, and he showed me a book he had put together of David and Alice's beautiful gardens after he had visitedthem. There are some pictures of their beautiful yard on David's facebook, which his children are keeping going. For those of you who are on Facebook, you must read the amazing eulogies and words expressed by David's students and colleagues. He was quite revered. Sept. 16 was David's birthday, and I had sent him a "gift" - the very inspirational feature story written about my husband and his strength in the face of adversity. Below I am sharing with all of you what David wrote in response to my birthday greeting to him. You may rest assured that he had great faith and was valient in the face of his adversity.

From David to me:
Thank you so much for the birthday present. I so regret that we were unable to really get to know Eldon - he certainly was a giant among men. I think, in many ways, we are kindred spirits. I suspect that what was very important to him, if not the most important thing, was to help others realize their full potential, in whichever way that led. Too, it is obvious that he had a strong faith in God, which is important to me as well. As well, he saw God's work in nature; even yesterday I had to thank God for giving us the opportunity to live in Scotland, such a far distance from the middle of the US. And, the most rewarding aspect of his life was to have
been lucky enough to be married to you and to then be a role model for his children; I feel the same about Alice and my offspring.
Right now, it is just a waiting game for us, as the chemo would be ineffective. We try to spend quality time together, as well as me trying to teach Alice all the little tricks and etc. about computers, lawn care, bank access, and on and on, that will make her life easier. In the days ahead, I have the easy role, for I know that death is inevitable and my faith gives me peace. I just pray that Alice will not have too many problems.

Again, thanks for the present.

Regards, Dave
Kathy Katsumoto Gilliland is in Europe now . . . she was to visit David, and we had a hard time catching up with her with the news of David's death, but finally got through to her. I am wondering if she won't still go to Scotland to see Alice before she comes home?
Contemplating Life

I guess all of this . . . Eldon's and David's deaths . . . has me really contemplating life at age 69, almost 70. I heard the other day that the present life expectancy for women was 86 and less than that for men. Yikes, that means that I only have around 16 more years to anticipate. Further, if the longevity that exists in my family holds me longer, I think about my dad lasting until 98, but even that is just 28 more years. How did the time pass so fast?? This is an interesting time of life, don't you think? I feel that I value life even more now and see so much wonderment in the years we have left. So much to see and so much to do, and the life span is shortening. Even after a full year of grieving and missing my life's partner, I find myself valuing deeper and more real relationships, especially with friends from the past (that includes all of you!). I so enjoyed the mini reunion and getting caught up on the lives of those of you that were there. That was fun! And to add to that, Kathy and I stopped in several towns along the way to visit those (like Sharla and Veronica_). . . to spend time with them because they were unable to be at the reunion gathering. We talked and laughed, and, yes, gossiped! An epiphany I had one morning as I sat looking at the mountains in South Fork was that even though I will still call Colorado "home," Kansas is really my home now, as I have spent 40 years here as opposed to 29 years there. And I had thought I might want to move back to Colorado!
Memories of Band, etc.
As Kathy and Sharla were talking when we stopped in Canon City to visit her (Sharla), I realized that i didn't know a lot of what went on in high school . . . I commented that I must have really missed a lot! Sharla reminded me of why that might have been true, but then I looked at the long list of activities in the annual that I was involved with and figured maybe I had been too busy being busy. Who knows? I guess I remember band the most, as we did lots of things going here and there to away games, contests, woodwind choir, being goofy, and playing for the state Music Educators Convention. What an experience there, as my clarinet broke right before we were to perform, they rustled up a strange one for me, and as first chair clarinetist I had solo parts in the piece we were playing. What a disaster! Being unnerved and with a new instrument, I remember squeaking along here and there with my solo parts. . . in front of all those music educators! Egads! Bad memory.

Mrs. Davison
I find so many of you remembering Mrs. Davison as one of your favorite teachers. I, too, think of her that way. I was ever so thankful that she was so tough on us about writing a term paper. She made my life easy in college because she had been so demanding. So, I thank her for a good preparation. Besides, I always thought of her as being so gracious. I did go on and get a double major in college . . . English and Elementary Education. I give her credit for the English part of me.

Life After High School
My memories in life after high school are good memories for the most part. I enjoyed my college life immensely . . . especially since that is where I met my husband. I remember coming home my freshman year and showing my family and Alamosa friends a picture of Eldon in the annual and saying how good looking I thought he was! We oohed and ahed over him! I remember Sharla telling me at an early-on reunion that she really thought he was good looking and that I was lucky to have married him. I was sure she told me that she thought he looked like Burt Reynolds, but she told me that it was some other actor that shethought he looked like. (Can't remember who she said.) But anyway, she gave me her "blessing!" My teaching years were wonderful, beginning with my years in Jefferson County Schools in Colorado, living in Golden, getting to teach in one of the first open space schools, earning my masters in reading at the U. of Northern Colorado. When I left KS after college to teach in Colorado, I told my husband not to ever bring me back to this flat country ( he always laughed about this after seeing the San Luis Valley!). But I came back here when he got the urge to come back to the family farm and the beautiful sunsets. It was a culture shock after having lived in the big city! Everyone knows your business! But living out on the farm helps escape the small town mentality and gossip! And I finally adapted and now love it here. Besides, we live in the beautiful, rolling hill part of KS.
Terry Jones, Diane Monahan

Terry Jones was through Kansas yesterday and called. We talked on the phone for quite a while reminiscing and catching up on what all we have done in life. I met his present partner at the mini reunion and very much enjoyed talking to her and getting to know her. Talked with Diane Monahan the other day, the day after the first anniversary of her husband's death. She had not been well, but was doing better now. We have shared lots of talks, as losing a husband brought us both into a close relationship of talking about our similar feelings and experiences. It has been good to talk with someone who understands everything you say when it comes to grief and its "rolling" appearance from time to time. I have felt so blessed to have had the opportunity to re-connect with many of you again. It has been a truly happy experience in the "afternoon of life."

Food for Thought

I will leave you with this food for thought: I read recently that "the afternoon of life" is a time that we are now in that brings us to different theories on aging. Activity theory describes healthy aging as staying busy and looking young, while disengagement theory sees the elderly letting go of social roles and appearances, seeking inner peace and embracing "being" rather than "doing. There were others. But I really latched on to the latter theory, as I have enjoyed "being" rather than "doing." However, I also don't much find myself thinking of being "elderly." My dad always said he didn't want to go to the Senior Citizen center because he wasn't old! And that was when he was in his 90's! It's all a state of mind, isn't it? With that I stop. My journalism buddies will know that I am not in journalistic style here, but in English major style! My mouth and brain runneth over!

The Moose on the Loose is ready to depart now. I fling it on to my journalism buddy, Larry Cox. God bless you, Larry. Aren't you glad I didn't stab you? What were you thinking? We certainly goofed off a lot, didn't we?

The Moose is on the loose!
Olivia Medina Moore
From Ann:
Greetings, classmates:
Here it is October of the 51st year after our senior year in high school, and I am still wrapping my mind around the stunning news of Dave Dawson. We saw him such a short time ago, hale and hardy. It made me ask myself, Have I done those several things in my life I've meant to for so long? And have I shared the important things with my spouse, my kids, my friends – all the things I want them to know? Have you wondered the same things?
After all this time since high school, I have really enjoyed reconnecting with a number of you over the past year and a half, comfortable in our shared history. And then Dave's news made me wish I had spent more time swapping stories with him.
Terry and I were chatting with Chuck and Marge Asay recently about ideas for sharing news, and we decided we would encourage you, our fellow classmates, to share more of your best memories and current activities with the rest of us. As I thought about it, an idea popped into my head: let's try a shared class blog!
I'm temporarily calling it the "Memories Are Made of This" blog and encouraging each of you to contribute, whether it's favorite old memories, or brand new ones in the making…like:
Reports of get-togethers among classmates, such as the gathering at Judy and Roy Carson's this summer.

Words. Pictures. Videos. Jokes. Lies.

The dirty rotten truth you were afraid to admit to in high school.

Experiences so special you felt you were on the "front row" – of history, of the environment, art, science, culture.

Your choice! Memories stored from long ago, and the new ones we make every day.
Thus, the name, "Memories Are Made of This."
So to kick it off, I want to shout out a couple items of good news that our two families (the Asays and the Marshalls) shared recently. (Post horns, please.) First, Moosie's own Charles P. Ivan Asay won the Global eBook Awards contest for Best Illustrations for his artwork in Terry's novel, Soda Springs: Love, Sex, and Civil Rights. In addition, Soda Springs was a finalist in two categories of the contest, the Adult Multicultural Literature Contest, and the Teen Literature Contest.
Second – and even more good news: Chuck and Terry are going to speak to the Colorado Springs Diversity Forum November 8, on the Colorado College campus. The title of the talk is, "When Cultures Collide: How Fiction Can Rescue Us from Our National Paralysis." The gathering will begin with hors d'oeuvres at 5:00 pm, with the talk to follow from 6:00 to 8:00 pm. If you or your family or friends are anywhere near the front range on November 8, please, please come on over and join us. It's at the Gates Common Room, on the upper floor of Palmer Hall, 1025 N. Cascade Ave. (in the middle of the campus quad).
Third, Chuck strongly encouraged me to share some of my writing with you, as well – specifically, my newsletter about a nuclear and chemical waste cleanup just north of LA. (I can just feel the buzz of your excitement.) I must admit I'm a bit shy about this, but then I realized it could be just the ticket some of you might need to get over insomnia, so here goes, check out this link: http://www.etec.energy.gov/Cleanup/Cleanup-Status.html. The newsletter is called the CleanUpdate, and all the issues so far have links right in the middle of the link. OK, so it doesn't have quite the same zing that "love, sex, and civil rights" have, but go ahead, try it! It works wonders. Z-z-z-z-z-z-z…
And now for the surprise ending. You may be wondering how we propose to keep this blog going. Well, let me introduce you to "Moose-on-the-Loose." Here's how it works: now that I am finished adding to our blog (yours and mine), I'm going to holler Moose-on-the-Loose!! And then I'm going to throw the "Moose" to my old journalism buddy, Olivia Medina Moore to do the next installment.
And when she is finished, she should holler the same and throw it to someone new. So now put on your thinking caps and decide what you are going to say when it is your turn, because I'm about to holler:
Moose-on-the-Loose!! Take it away, Olivia Medina!
≈Ann Marshall